President Biden is meeting with Russian President Vladimir Putin in Geneva today for a highly anticipated 🍊 summit amid strained relations between Washington and Moscow. The White House set modest expectations for Biden's first meeting with Putin as president, saying it's "not expecting a big set of deliverables." 
Among other issues, Biden is expected to raise a new arms control agreement between the two nations and Russia's poisoning and imprisonment of opposition leader Alexei Navalny. But that may be overshadowed by Russian ransomware attacks targeting US infrastructure .
The meeting comes after Biden met with G7, NATO, and EU allies throughout the past week. He sought to reaffirm alliances. Biden said most world leaders at the meetings welcomed his summit with Putin.
The president also said the meeting, expected to last four to five hours, would be a "straightforward" conversation with a "worthy adversary." He declined to say specifically what message he'll send to Putin. Biden has called Putin a "killer" who "doesn't have a soul."
But Biden did offer a broad outline of his goals, saying he would "make clear to President Putin that there are areas where we can cooperate, if he chooses." He added that if the Russian president refuses, "then we will respond in kind."
Biden has taken a much harder line on Russia than former President Donald Trump. He said he has a "very different view" of Putin and Russia than his predecessor.
🍊 Extra Juice: World Leader Summits
President Biden and Russian President Vladimir Putin are holding a summit meeting today. What other significant summits have occurred in the modern era and how did they affect world events?
Yalta Conference (February 4-11, 1945)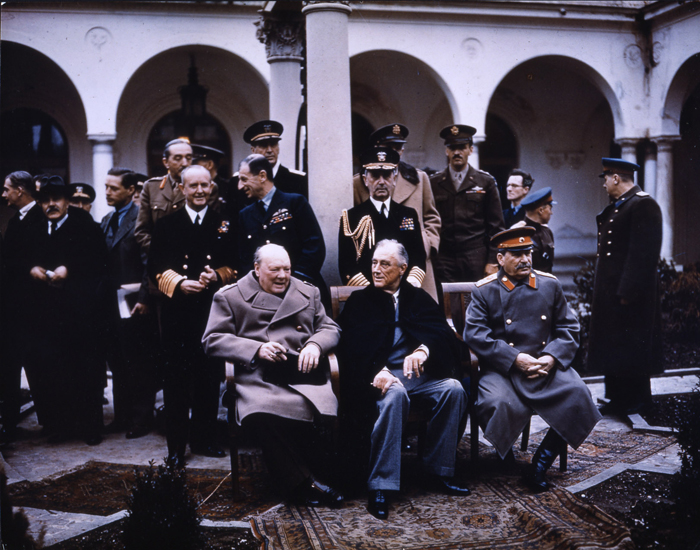 Winston Churchill, Franklin Delano Roosevelt, and Joseph Stalin at Yalta (seated left to right). Photo from The National Archive UK courtesy Wikimedia Commons.
This summit was a major moment in the 20th century. US President Franklin Roosevelt, UK Prime Minister Winston Churchill, and Soviet Union leader Josef Stalin came together to discuss post-Nazi Europe after the conclusion of World War II.
These talks led to several important agreements, not the least of which were the terms of Nazi Germany's unconditional surrender in the war. The leaders also agreed to divide Berlin into four occupied zones, enlisted the Soviet Union in the United Nations, and formalized a method of prosecuting Nazi war criminals.
The Vienna Summit (June 4, 1961)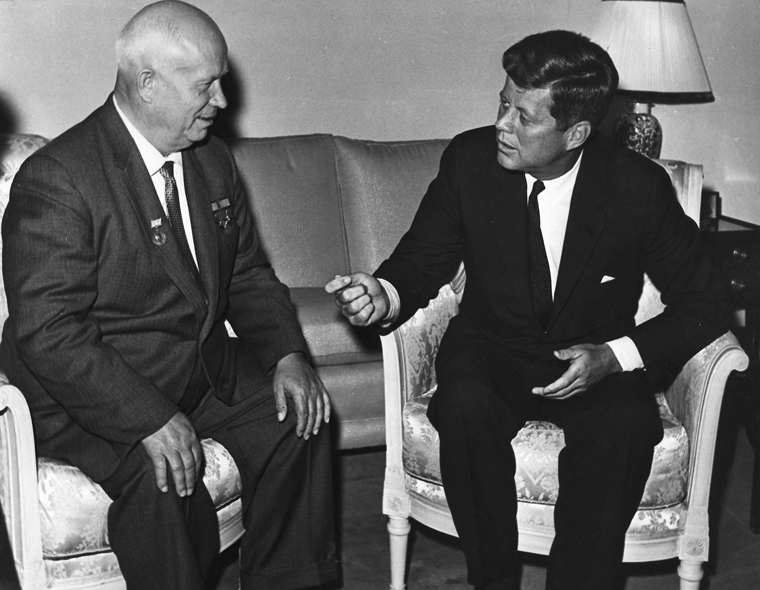 President Kennedy meets with Chairman Khrushchev at the U. S. Embassy residence, Vienna. Photo from US Dept. of State courtesy Wikimedia Commons.
President John F. Kennedy met with Soviet Premier Nikita Khrushchev amid one of the more frozen periods of the Cold War between the two nations. The leaders of the world's two superpowers discussed a series of brewing crises. They included East and West Berlin, unrest in Laos, and the Bay of Pigs invasion in Cuba two months earlier.
Many journalists scored the meeting as a huge victory for Kennedy, but Kennedy didn't agree. He later told The New York Times that he thought Khrushchev, a burly, outspoken Russian known for banging his shoe in protest at the UN, "beat the hell out of me" during the summit. Kennedy even said that the meeting was the "worst thing in my life" and added that Khrushchev "savaged me." 
Interestingly, Kruschev thought the meeting was a draw, and he didn't think he overwhelmed Kennedy at all. He wrote in a memoir years later: "I was generally pleased with our meeting in Vienna. Even though we came to no concrete agreement, I could tell that (Kennedy) was interested in finding a peaceful solution to world problems and avoiding conflict with the Soviet Union."
Nixon's Visit to China (February 21-28, 1972)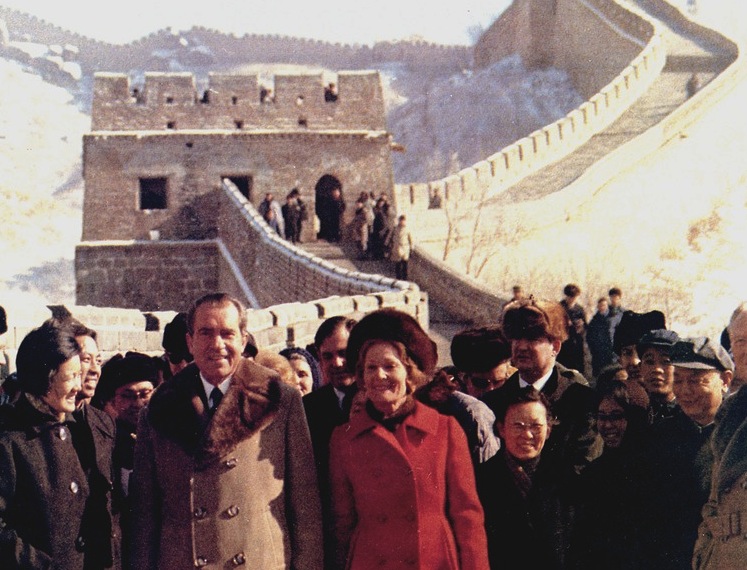 President and Mrs. Nixon visiting the Great Wall of China. Photo from US National Archives courtesy Wikimedia Commons.
US President Richard Nixon's visit with Communist Chinese leader Mao Zedong was monumental, considering how bitterly sour US-China relations had been for so long. Indeed, the trip was the first time that a US president had visited the People's Republic of China. Nixon's arrival in Beijing ended more than two decades of non-diplomatic relations between the two countries.
Former US diplomat Winston Lord, who attended the in-person meeting between Mao and Nixon, called it a "geopolitical earthquake" that brought the US and China together, politically and economically, and laid the foundation for China's
emergence as a major world power. So, its effects are still playing out today.
Camp David Accords (September 1978)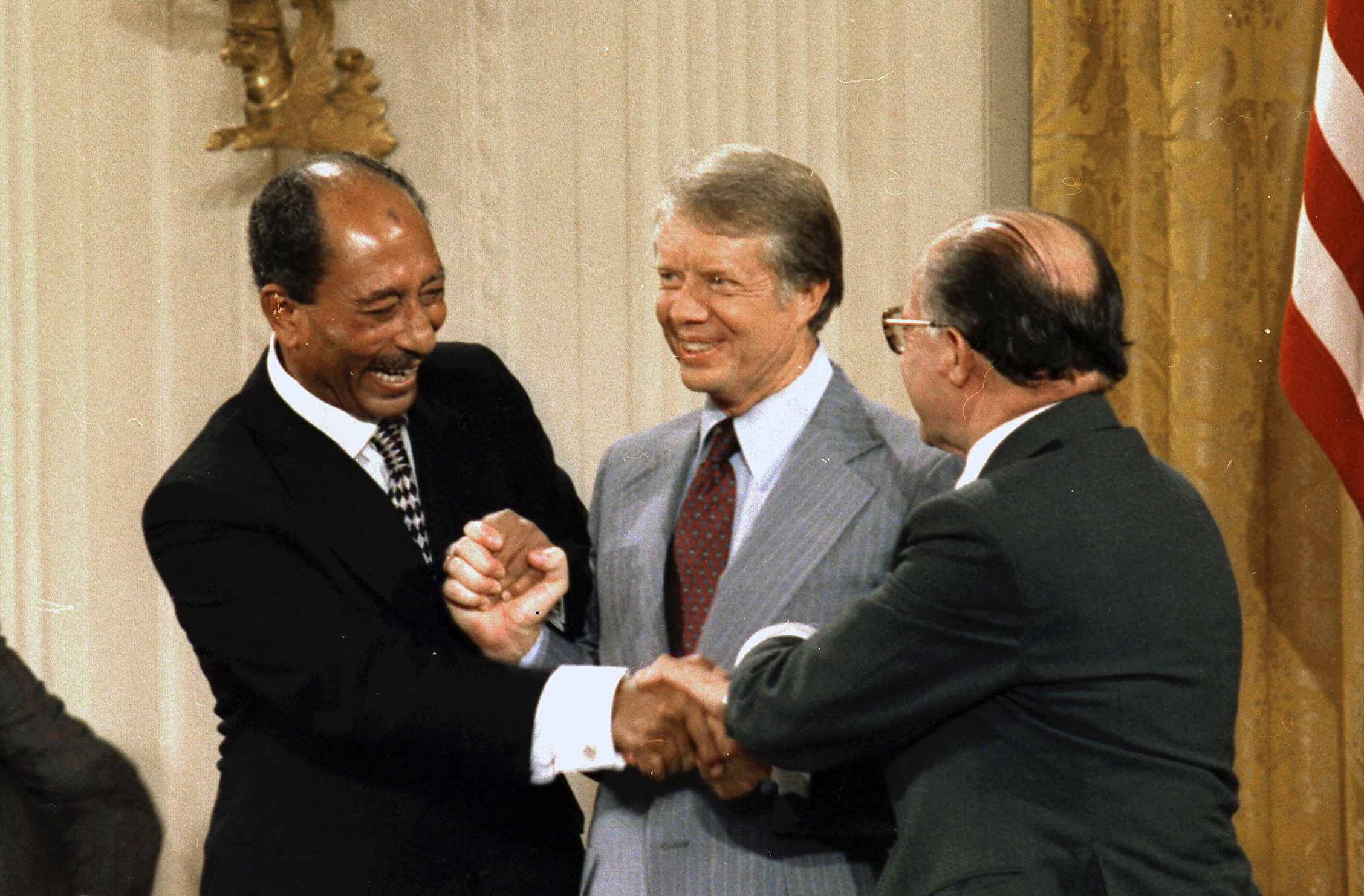 Egyptian President Anwar Sadat (left), US President Jimmy Carter (center), and Israeli Prime Minister Menachem Begin (right). Photo from US National Archives courtesy Wikimedia Commons.
US President Jimmy Carter, Egyptian President Anwar Sadat, and Israeli Prime Minister Menachem Begin met for 12 days of secret negotiations at the presidential retreat in Maryland. The event was considered a watershed moment in Middle Eastern politics because it ushered in an era of peace between Egypt and Israel after decades of hostility. The historic agreements provided for complete Israeli evacuation from the Sinai, laid the groundwork for the signing of a final peace agreement, and outlined a broader framework for achieving peace in the Middle East. However, the summit was highly acrimonious, Carter recounted years later. "It was mean. They were brutal with each other, personal," Carter told his wife, Rosalynn, according to PBS television.
Geneva Summit (November 19-20, 1985)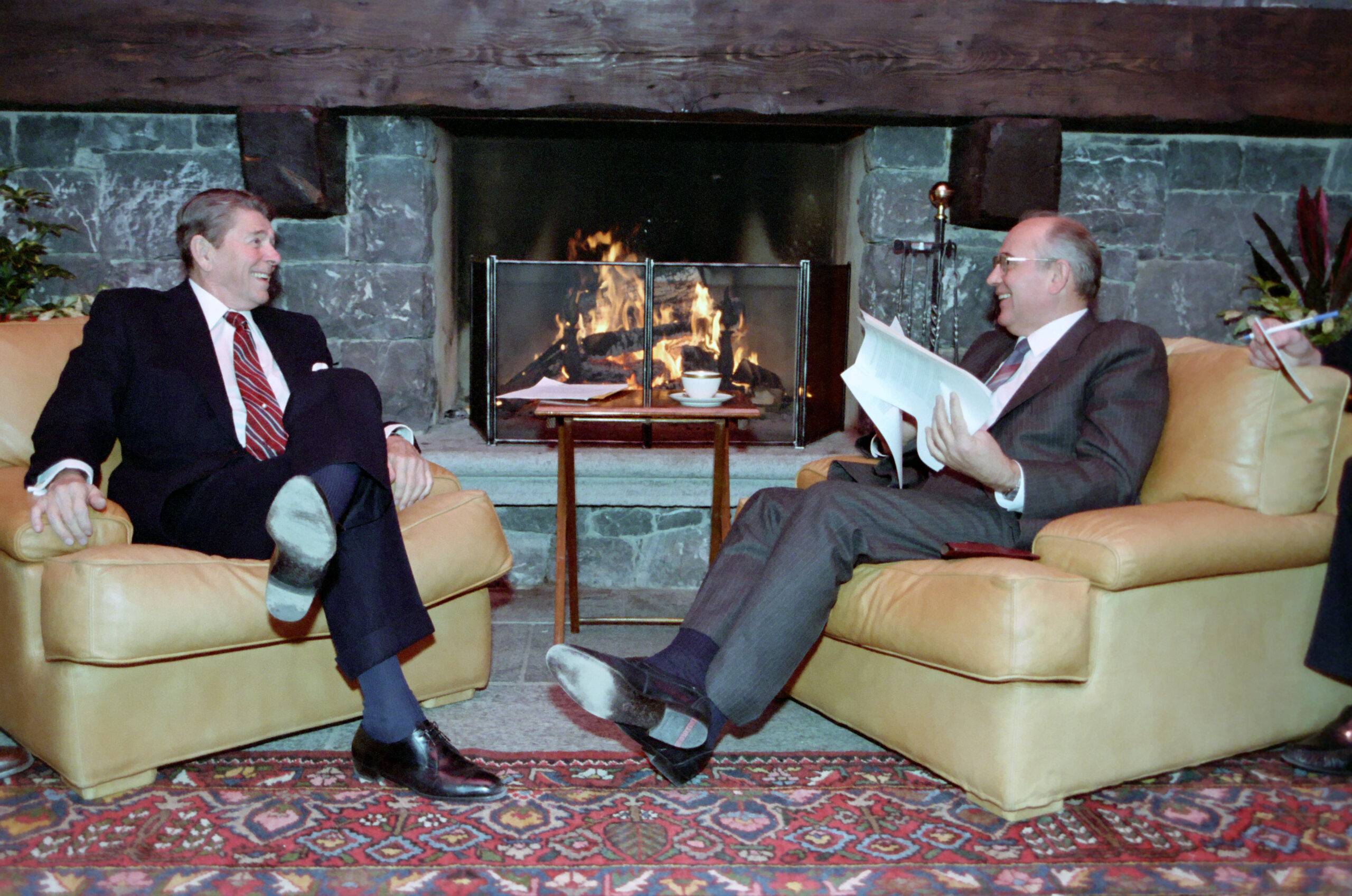 President Reagan and Soviet General Secretary Gorbachev at the first Summit in Geneva Switzerland. Photo from Reagan White House Photographs courtesy Wikimedia Commons.
US President Ronald Reagan and Soviet Union leader Mikhail Gorbachev met in Geneva, Switzerland, for the first time to talk about diplomacy, the Cold War, and the nuclear arms race. Gorbachev said he viewed the historic meeting "without grand expectations, yet we hoped to lay the foundations for a serious dialogue in the future." Reagan called it a mission for peace. The summit would be the first of five such meetings between the two superpower leaders over the next three years. Reagan told Gorbachev that although the two were leaders of the world's most powerful nations, they nevertheless had common backgrounds, having both been born in "rural hamlets in the middle of their respective countries." Most important, these summits are credited with laying the groundwork for the end of the Cold War.
Singapore Summit (June 12, 2018)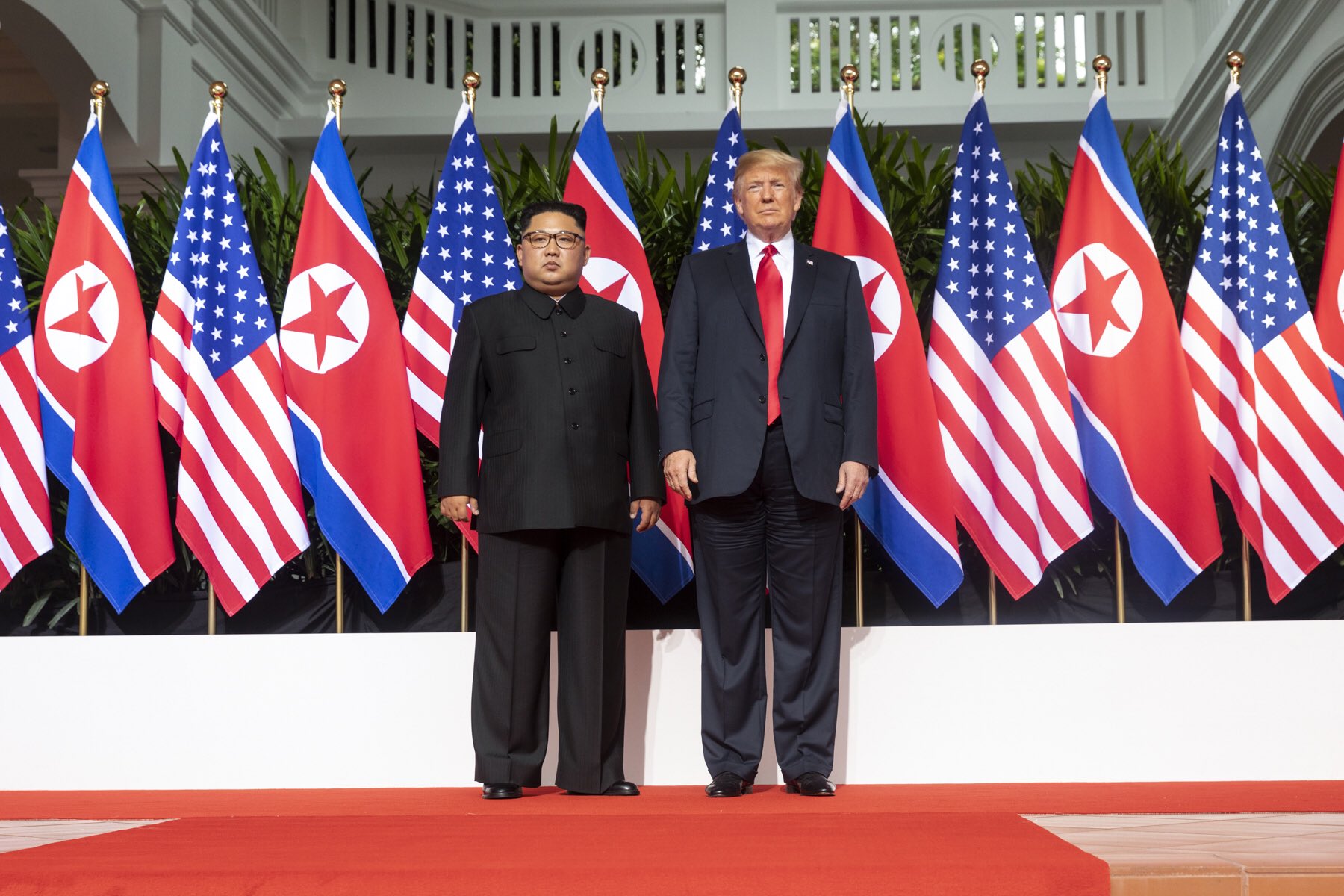 Chairman Kim Jong-un and President Donald J. Trump standing next to each other on the red carpet during the Singapore summit. Photo from Public Domain courtesy Wikimedia Commons.
US President Donald Trump met with North Korean Chairman Kim Jong-un in Singapore. They agreed to security guarantees for North Korea, new peaceful relations, the denuclearization of the Korean Peninsula, recovery of US soldiers' remains from the Korean War, and follow-up negotiations between high-level officials. When Trump returned to the US the following day, he declared that North Korea was no longer a nuclear threat, although all indications are that North Korea has continued to push forward with its nuclear program and relations between the two countries remain antagonistic.