The Biden administration reportedly has no plans to grant 🍊 Haiti's desperate plea to send US troops. Haiti says it needs help to stabilize the country after President Jovenel Moïse's assassination. Instead, President Biden is sending a delegation of FBI and Homeland Security officials.
Moïse's assassination at his home Wednesday has plunged Haiti deeper into political strife, social chaos, and violence. Three men claim to lead the nation. The country has no president or parliament. Who is prime minister remains in dispute. And a weak police force is failing to control armed gangs. They have driven thousands of people from their homes, killed civilians, and raided warehouses, stealing scarce food.
Haiti lies just 700 miles south of Florida. It is the poorest nation in the Americas.
The chaos could lead to a mass sea exodus of refugees to Florida like one that occurred in the 1990s. That would create another humanitarian and political crisis for Biden, who's already struggling with the surge in migrants crossing the US-Mexico border.
Biden administration officials expressed sympathy for the growing misery among Haitians. But, instead of military intervention, the White House is reportedly weighing increasing US training and assistance for Haiti's police and military forces.
Authorities have arrested more than 20 people in the brazen killing of Moïse. The motive remains largely a mystery.
🍊 Extra Juice: Haiti
What is Haiti?
Haiti is a country that is part of an archipelago of islands in the Caribbean Sea about 700 miles south of Miami. Haiti shares a large island, called "Hispaniola," with the Domincan Republic. It has a population of about 11.3 million, roughly equal to Ohio's.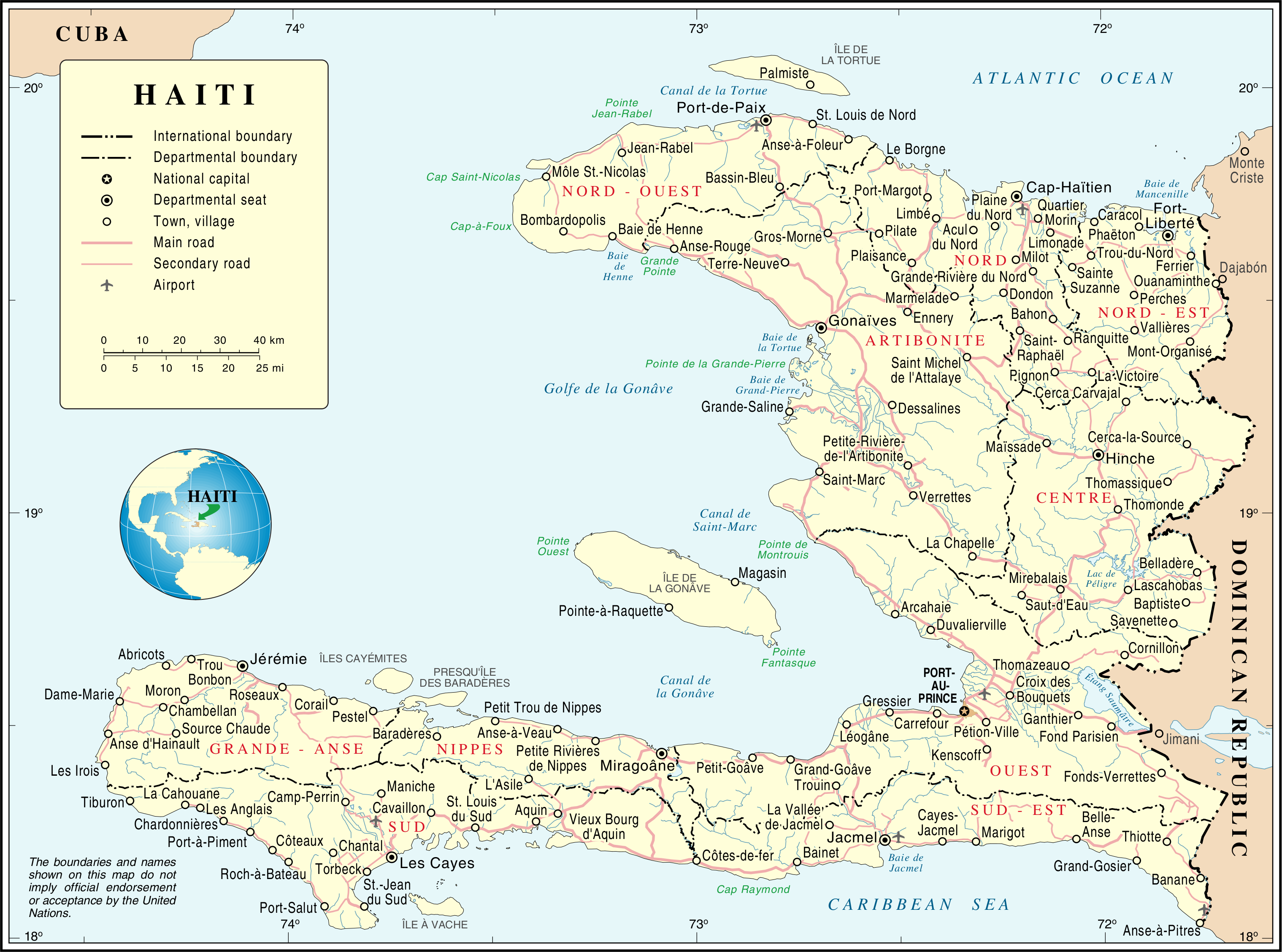 What is Haiti known for?
Haiti has long been fraught with economic and political problems, and it is probably best known for widespread poverty and unstable leadership. But Haiti does have positive attributes that it has exported to the world. Haiti's creole-style cuisine, similar to New Orleans creole-cajun fare, is popular with chefs worldwide, particularly its soup joumou. Haiti also exports an alcoholic beverage called Barbancourt, a type of rum that is world renowned.
Haiti also is known for its creative public art and vibrant music scene. It can be argued that Haiti is the art capital of the Caribbean. Buses are painted like murals, and art galleries contain paintings from master artists.
What is Haiti's history?
The island of Hispaniola was first discovered by Europeans in 1492 when Spanish explorer Christopher Columbus landed there. He built a fort on the island and left 39 men to man it, but they were killed by indigenous people called the Arawaks. More Europeans found the island, bringing disease and engaging in war with the native people, which led to the Arawaks' near extermination.
The east side of the island, which is now the Dominican Republic, was settled primarily by the Spanish, while the French settled the west side, where Haiti is now located. In 1697, the French officially colonized their western third of the island and called their colony Saint-Domingue. Throughout the 18th century, the French brought tens of thousands of African slaves to the island and built a prosperous economy that included the exports of sugar, indigo, coffee, and cocoa. Just before the Haitian Revolution, Saint-Domingue was the most profitable colony in the world.
How did Haiti gain independence?
In the late 1700s and early 1800s, wars devastated Hispaniola. The French fought the Spanish, and slaves rebelled against the French. A Black rebel named Toussaint L'Overture joined the French army and rose in its ranks. By 1801, L'Overture controlled the island and declared all slaves free. The island, with the help of a former slave named Jean-Jacques Dessalines, gained full independence from France in 1804 and was named Haiti, becoming the first Black republic in the world. The Spanish then captured the eastern two-thirds of the island, and by 1844, it was separated permanently from Haiti on the west. The eastern side eventually became the Dominican Republic.
What is the modern history of Haiti?
In the 19th and 20th centuries, Haiti remained unstable economically and politically, although the US invested in the island and established business interests there. The US occupied Haiti from 1915 to 1934, after President Woodrow Wilson intervened militarily following the murder of dictator Vilbrun Guillaume Sam by insurgents. His killing had been preceded by a number of political assassinations.
A series of regimes, controlled by the US during its occupation, ran Haiti until the election of Francois Duvalier in 1957. Despite being elected, Duvalier, known as "Papa Doc," turned into a brutal dictator with the assistance of an infamous secret police force. When Duvalier died in 1971, he was succeeded by his son, Jean-Claude Duvalier, known as "Baby Doc," who was every bit as brutal as his father. Many Haitians fled to Florida by boat as economic conditions worsened. Baby Doc was forced into exile in 1986. 
Since the early 1990s, Haiti has had a succession of presidents, most notably Jean Bertrand-Aristide, a priest who was in and out of power until the mid 2000s. In January 2010, Haiti was devastated by a massive earthquake estimated to have killed 230,000, injured another 300,000, and pushed millions into homelessness. The capital city of Port-au-Prince was especially hard hit, forcing 600,000 to flee for other regions. 
In March 2011, a constitution modeled after those in the US and France was approved by Haiti's parliament.
What is happening now in Haiti?
Haiti has never fully recovered from these man-made and natural disasters, and has remained the poorest nation in the West. In recent years, though, the country had been slowly improving economically.
Today, however, millions remain unemployed and gangs are terrorizing cities. In December, the US Treasury Department imposed sanctions against allies of President Jovenel Moïse, saying his government had supported gang members who had set houses ablaze and committed sexually violent acts against women. Moïse had denied supporting the gangs. Everyday citizens and political analysts alike said the country's economic and social health had been deteriorating under Moïse's leadership.
Moïse's presidential term officially ended in early February, but he had refused to leave office. Opposition had been growing in hopes of forcing Moïse to hold elections later this year. His opponents accused Moïse of governing the country by authoritarian rule and colluding with criminals. 
On Wednesday, assassins shot and killed Moïse in his private residence on the outskirts of Port-au-Prince, plunging the country into ever more social and political turmoil, and leaving Haitians uncertain who will assume leadership of the country. Haitian leaders have requested military help from the US to maintain security, but President Biden has indicated he's unlikely to oblige. Instead, Biden is considering additional training assistance from the US for Haiti's police and security forces. The growing political strife, social chaos, and violence have stoked fears of a potential mass sea exodus of refugees to Florida like one that occurred in the 1990s.