The following news supplement, called an Extra Juice?, appeared in the January 20, 2021 edition of The Juice.
Extra Juices are designed to provide a deeper dive into daily news story. They are standards-based and written to easy-to-understand guides made to inform and engage students. If supplements like this one interest you, sign up for The Juice's Early Access program!
---
What is an inauguration?
An inauguration is the swearing-in of a person into an office of significance, and it's mostly associated with a government executive such as a president, governor, or mayor. An inauguration usually is accompanied by a formal ceremony or special event.
The only officially required feature of a presidential inauguration is that the president-elect recite the oath of office. It reads: "I do solemnly swear that I will faithfully execute the Office of President of the United States, and will to the best of my ability, preserve, protect and defend the Constitution of the United States."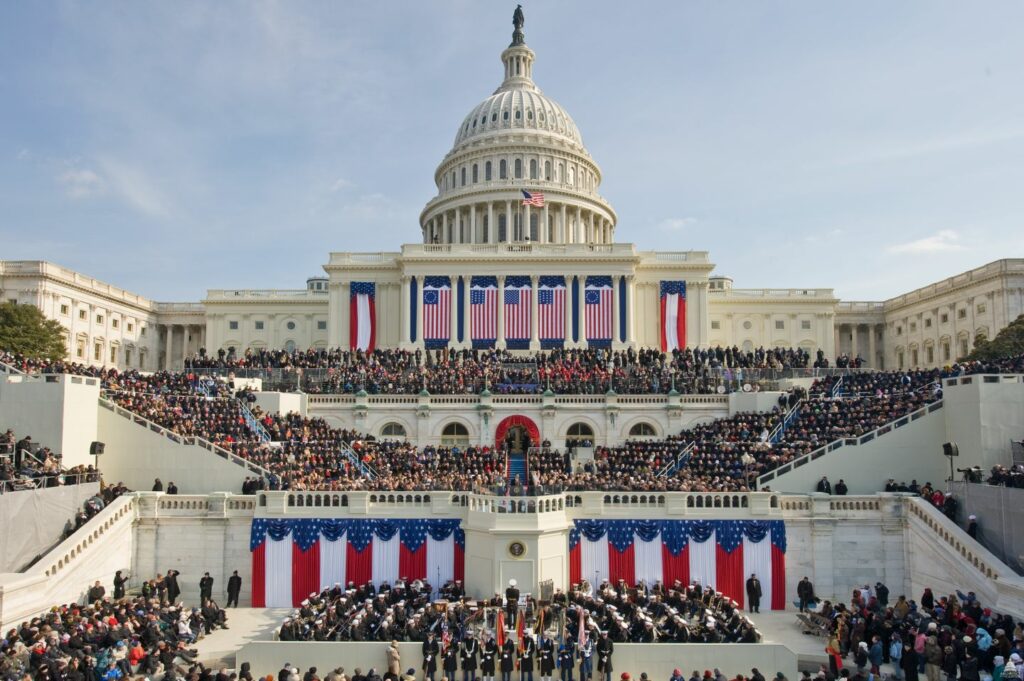 Where and when will Joe Biden and Kamala Harris be sworn in as president and vice president?
11:30 am Eastern Standard Time. The oath is administered by the chief justice of the US Supreme Court, who currently is John Roberts. Due to the COVID-19 pandemic and heightened security concerns, only a small audience will attend in person. Eight-foot tall fences have been erected around the Capitol, and 15,000 troops are stationed throughout Washington to protect the country's transfer of power. Inaugurations typically are highly secured events, but Biden's will be the mostly tightly controlled ever.
What is happening with President Trump, and why won't he be there?
It's long been customary for the outgoing president to attend the ceremony. Trump, who claimed without evidence that the election was "stolen" from him due to widespread fraud, is skipping Biden's ceremony. A military-style departure ceremony for Trump is being held at Joint Base Andrews earlier Wednesday morning. He then is scheduled to travel to his Mar-a-Lago residence in South Florida. Some Trump supporters are planning a "second inauguration" for Trump online, with nearly 70,000 signed up on Facebook for the virtual event. In a symbolic gesture toward the transfer of power, Vice President Mike Pence is skipping Trump's departure event and will attend Biden's inauguration.
When was the last time an outgoing president snubbed his successor's inauguration?
It was not uncommon in the early stages of the country for a president not to attend the incoming president's ceremonial event. America's democracy was still young and fragile, and the transfer of power was often the result of raw, deeply fought political battles.
In more modern history, on a couple of occasions, outside circumstances caused a sitting president not to be in attendance. In 1921, Woodrow Wilson was ill and could not accompany incoming President Warren G. Harding to the Capitol building. Richard Nixon had resigned from the presidency in 1974 and departed the White House before Gerald Ford took the oath of office in the East Room.
Still, the last time a sitting president declined to attend for political reasons was 1869, when Andrew Johnson failed to show for the swearing-in of Ulysses S. Grant. Johnson, like Trump, had a highly controversial presidency, was impeached while in office, and was ousted after one term. (Johnson was not nominated for a second term by the Democratic Party.) Grant and Johnson were at bitter odds, since Grant had led the Union to victory in the Civil War. Johnson was a Southerner who opposed Reconstruction.
What does it mean for the country that Trump refused to attend the inauguration and Biden is entering the Oval Office with thousands of troops guarding the event?
America is enduring a period of deep political and cultural division. Some experts have taken note that the last time a president was this bitter after an election was in the Civil War era. "It's usually a sign that American society is in the midst of major political feud," presidential historian Douglas Brinkley told The New York Times. "The fact that the incoming and outgoing presidents can't shake hands and co-participate in an inauguration means that something's off-kilter in the democracy."
In an attempt to heal these divisions, Biden is expected to launch his presidency with an inaugural address that appeals for unity among all American citizens. It is probably worth noting that he will make that appeal from the steps of a heavily fortressed US Capitol, the same site where a mob of embittered Americans just two weeks ago tried to make sure Biden's inauguration would not take place.