In today's post, we will finish going through the latest features coming to our effective learning platform. These improvements were made to ensure teachers, parents, and students get the most out of their experience with The Juice®. Our improved teacher portal, new standards tracking and reporting system, and individualized content bundling will allow teachers to dive further into specific student needs and increase their abilities to inform instruction as they build their students' reading comprehension and critical thinking skills.
The Power of the Teacher Portal
The Juice recognizes the critical need for obtaining data and we want to make this a simple process for educators. Data tracking is invaluable as a teacher because it allows teachers to inform their future instruction, understand student deficits, and recognize misunderstandings and mastery.
Data allows us to improve as teachers and support our students on an individual level as they grow and learn. Our teacher portal aims to give our educators extensive data that will speak to each students' unique abilities and areas of need.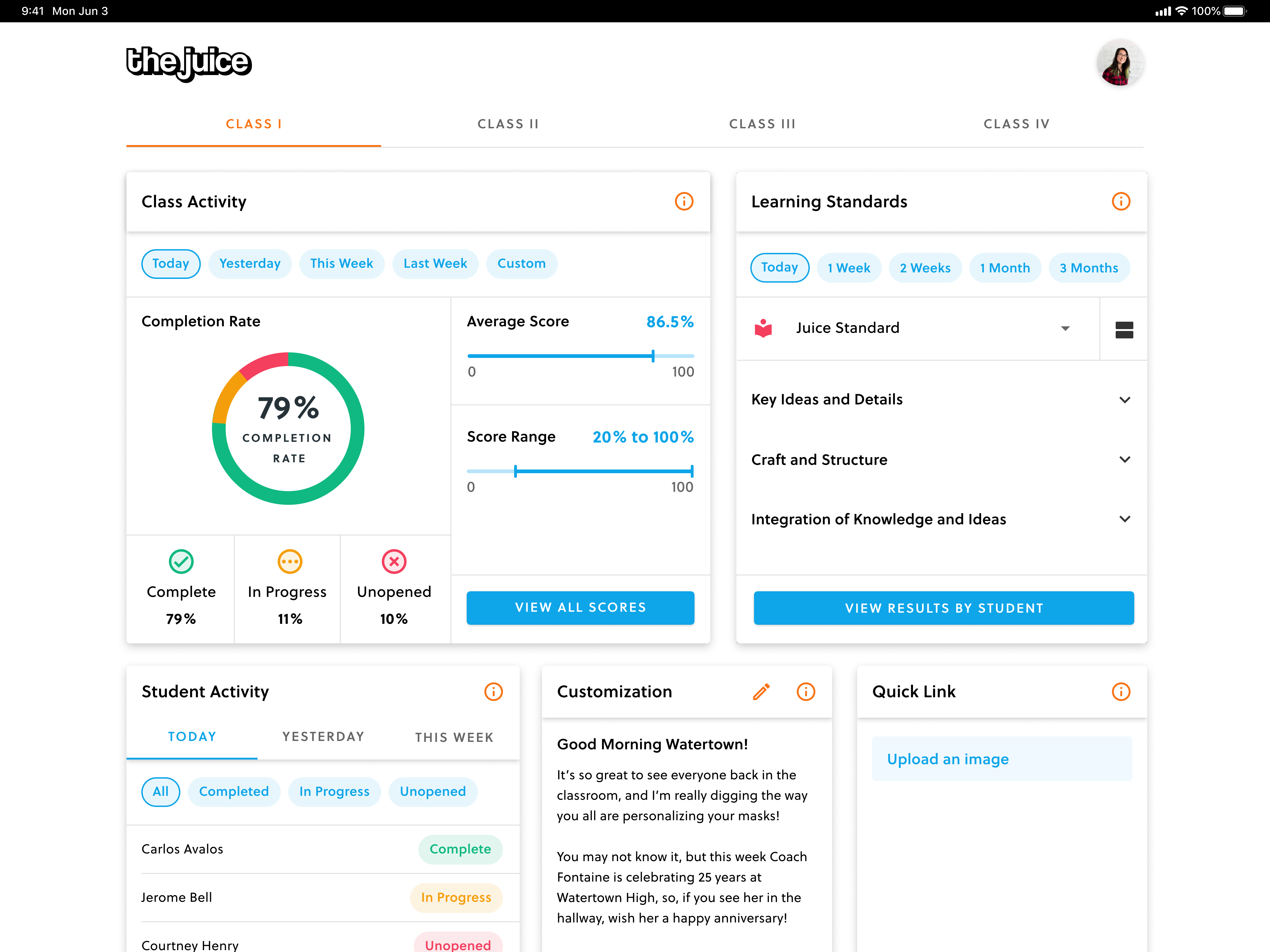 Through this portal, teachers will be able to see the questions students are getting correct, incorrect, or not completing. Each question is based on a specific Juice standard so that teachers can see exactly which skills their student is struggling with.
There is more to reading comprehension than simply reading a story and answering a question. There are many more intricate skills needed to master comprehension. This data will break down each question and the skills needed to correctly answer it, allowing teachers to get to the very core of where their student struggles.
In just one month, teachers who use The Daily Juice will have data on 100 standards-based questions for each student in their class. This is an enormous amount of data that will allow teachers to build student profiles and recognize classroom needs.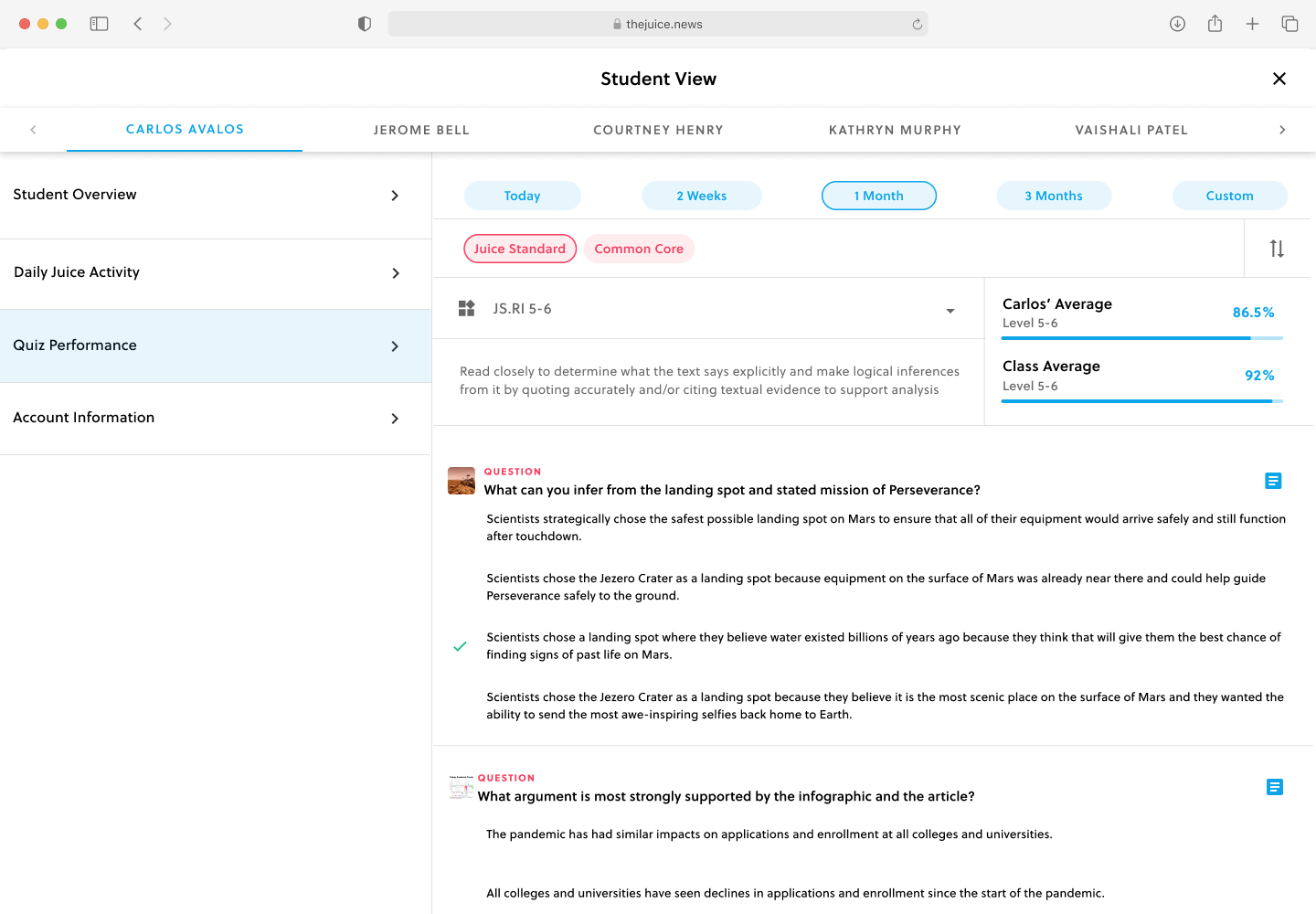 Our teacher portal will have your class roster with each student's scores. The data will show how each student is progressing through specific standards and skills. Our new standards tracking and reporting system will continue to further our data collection and specify particular areas of need and mastery.
Standards Tracking and Reporting
Our team at The Juice has narrowed down specific standards that closely match common core and state education requirements. We've categorized our comprehension questions to fall under three umbrella categories: key ideas and details, craft and structure, and integration and knowledge, each having more specific standards within.
Aligning our curriculum to these standards allows teachers to focus on the key reading and comprehension skills they need to thrive. Our Daily Juice provides the opportunity to quiz students on 5 unique standards each day.
This gives teachers the ability to not only see where students are excelling and struggling with specific standards, but also have the data to understand the underlying skills and abilities they need to improve on.
Teachers can bring this data to administrators during observations to show how their class is progressing and what they are doing to drive this progression. Data keeps teachers accountable and provides guidance for the next steps in their instruction.
With our teacher portal and our new standards tracking, teachers can begin to build a plan for remediation.
Content Bundling and Remediation
Having the data is only the first step. The Juice has also provided teachers with a way to act on this data and provide remediation on an individual level. Our new content bundling option gives teachers that next step.
Each Juice article will be categorized by both its standards and its content. Our search tool will allow teachers to search for specific articles with questions that are based on particular standards or that cover specified content.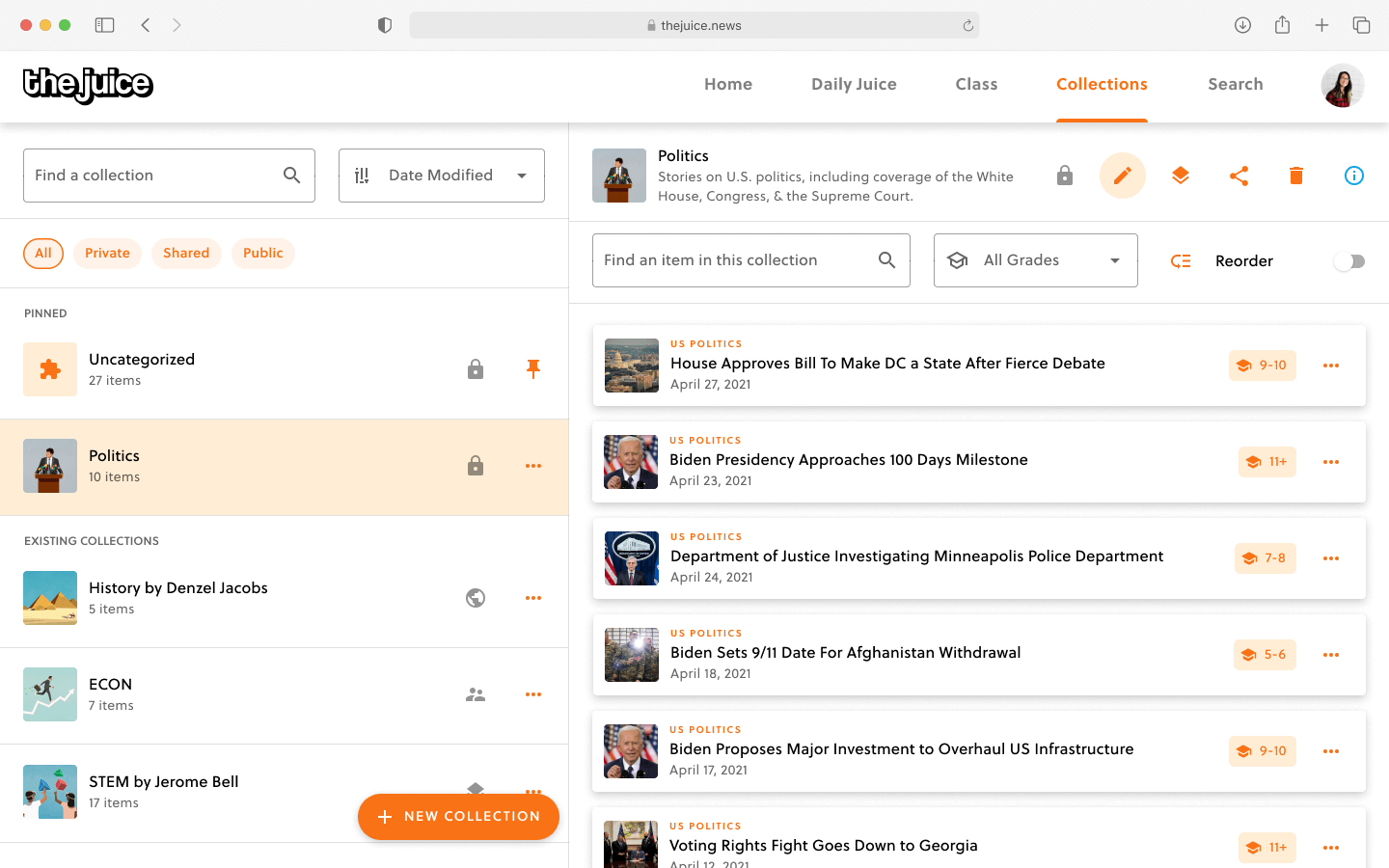 Teachers can then assign specific articles to specific students based on the need they are trying to meet. If Student A is struggling with crafting and structuring, and Student B is struggling with integration and knowledge, their teacher can assign a bundle of articles to each individual student that focuses on these separate skills.
Classrooms are filled with diverse students with different learning needs and different reading levels. Being able to individualize assignments grants teachers the ability to meet each student where they're at and provide specialized instruction for their entire class.
For teachers looking for specific content, sometimes The Daily Juice won't have exactly what they are looking for. Our search option will allow these teachers to search past and present articles based on content to find relevant topics to bundle for their class.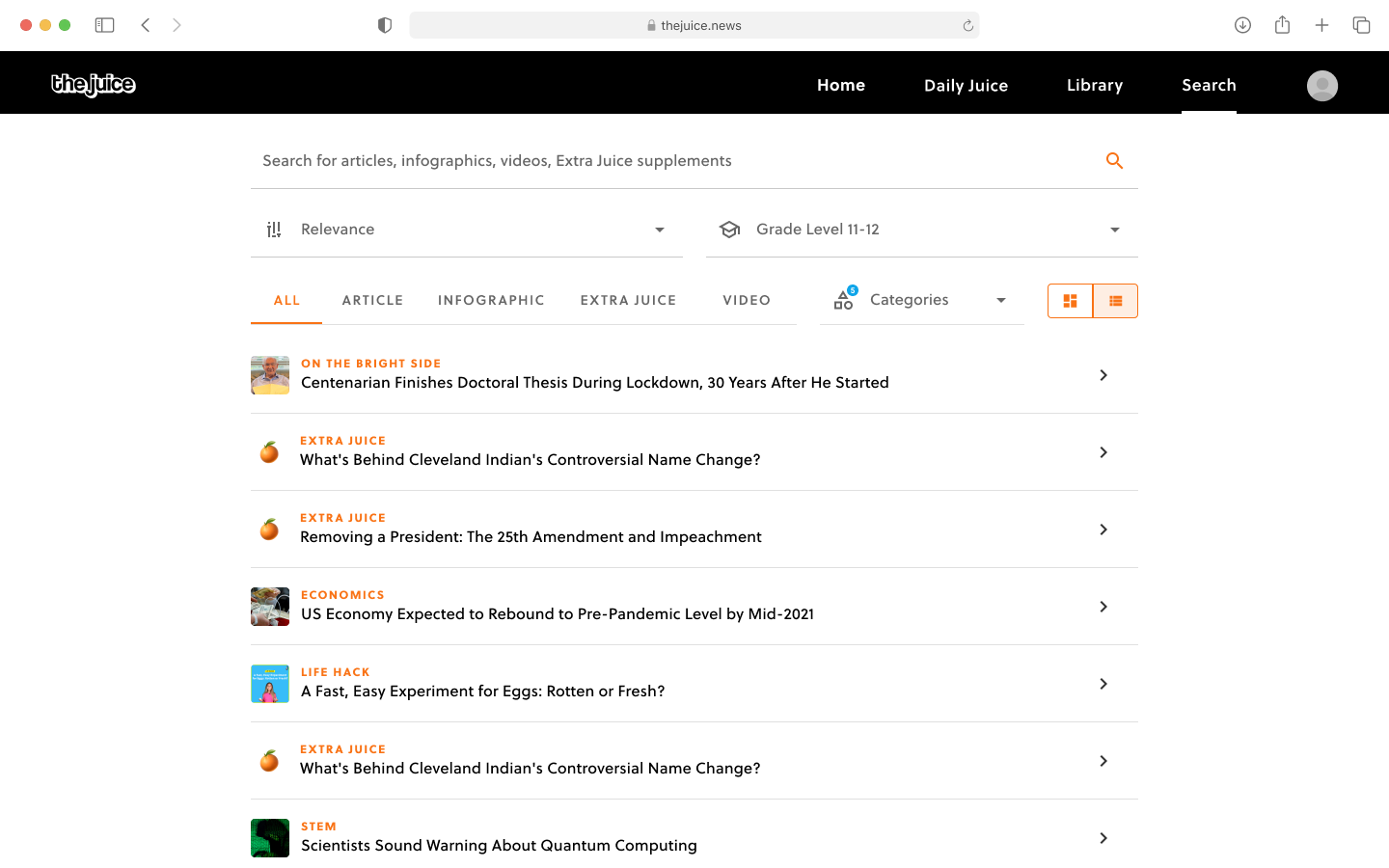 Each classroom is unique, and The Juice will provide the tools needed to adhere to the diversity of all students.
Final Thoughts
Our goal at The Juice is to provide our educators with tools that are effective, informative, and simple to use. These new features strive to do just that. And as we continue to expand and refine our platform, we will continue to help our educators and students be the best they can be.
To learn more about The Juice, what we offer, and how we can be a part of improving your classroom, visit thejuicelearning.com or check out our blog!