An Olympic sprinter from Belarus expressed her desire to 🍊 defect at Tokyo's airport. The athlete said she feared for her safety when Belarus team officials attempted to force her to fly back to her home country.  
Athlete Krystsina Tsimanouskaya refused to board the flight and instead sought help from Japanese police. She was granted a humanitarian visa by Poland.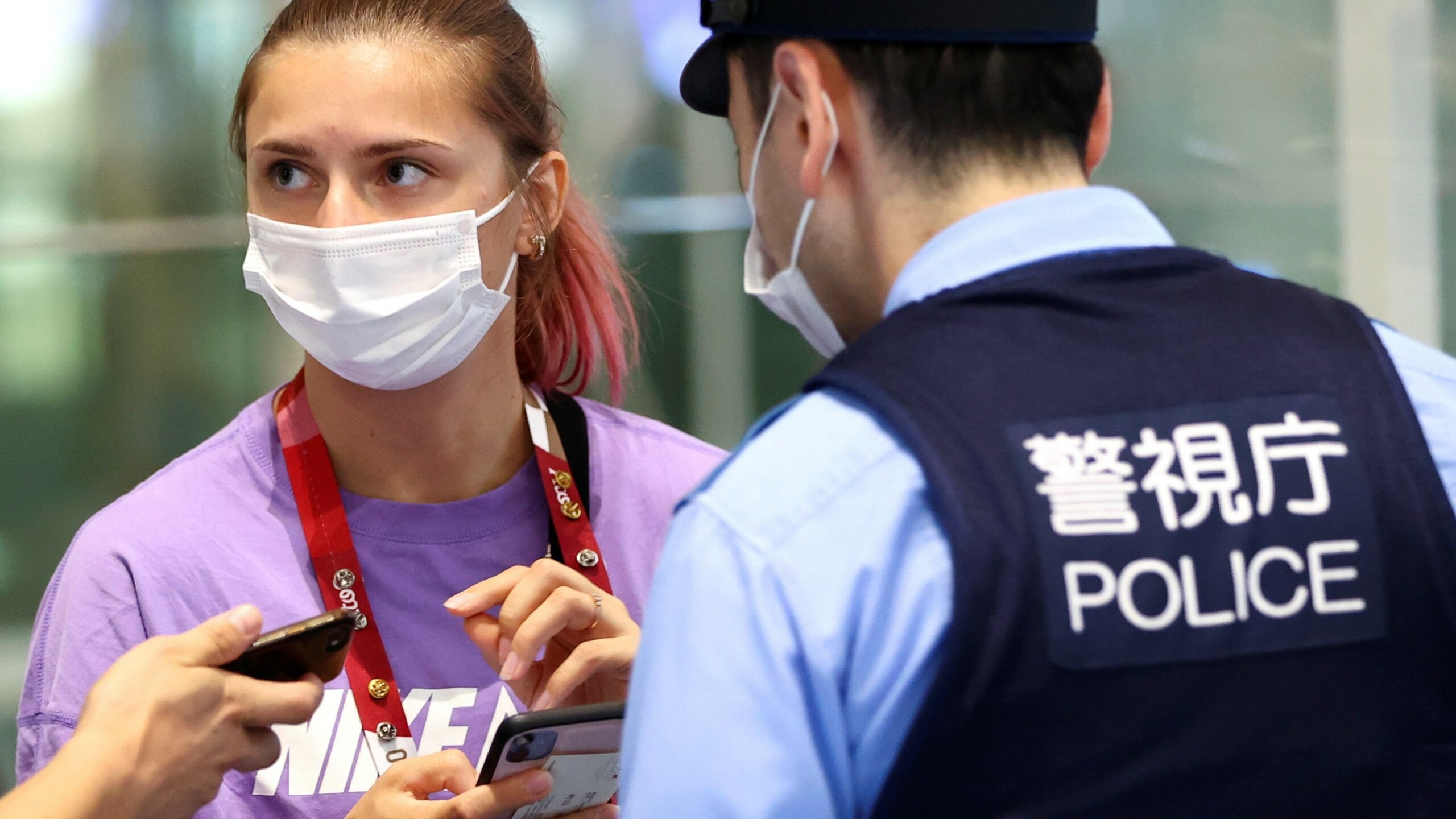 Tsimanouskaya came into conflict with Belarus officials when she criticized how coaches were managing the Olympic team. Specifically, the sprinter posted on her Instagram account that she was placed in the 4×400 relay even though she has never raced in the event. She was supposed to compete Monday in the 200-meter race.
State-run media in Belarus came down heavily on her for the act of defiance. A Belarusian opposition politician said government officials had told Tsimanouskaya's mother that her daughter was a spy for Western governments.
Belarus President Alexander Lukashenko has cracked down heavily on dissidents , journalists, and government critics in recent months. More than 35,000 people have been arrested in protests against the country's authoritarian leader. Belarus is a former republic of the Soviet Union.
It's unclear specifically what Tsimanouskaya will do next. It appears she is soon headed to Poland. She's now at the Polish embassy in Tokyo. Her husband told a Russian newspaper that he had left Belarus for Ukraine. The couple will reportedly meet in Poland. Tsimanouskaya can seek refugee status there.
🍊 Extra Juice: Olympic Defections
What does it mean when someone defects?
A defection is when a citizen of one country decides to give up allegiance to it and leave for another country in a move considered illegal or illegitimate by that person's initial home state. 
Why do people defect from their native country?
People usually defect because they are unhappy with their country and their situation in it. Such disenchantment with their native country can derive from various reasons, but political ideology, religious differences, and economic reasons are highly prevalent among defectors. Often, defectors believe they are being oppressed and are susceptible to severe punishment from their home government if they remain in their homeland, or if they return to it.
Are the Olympics and other sporting events often used as a way for people to defect?
Yes, they certainly have been the conduit for defections. Historically, most defections involved athletes trying to escape communist countries.
However, all sorts of people used athletic events to defect. For example, in September 2004, a handball team from Sri Lanka traveled to Munich, Germany, to play a series of matches against local players from TSV Wittislingen as part of a tournament organized by the nonprofit Asian-German Sports Exchange Program. But in truth, Sri Lanka had no national handball team. During the first day's matches, some of the 16 players and their eight coaches didn't seem to understand how the game worked. A few players even had difficulty catching the ball. The next day, before breakfast with the Bavarians, the Sri Lankans went out for a run, and never returned. They left a note saying they had fled to France. The incident attracted international attention and the drama even became a movie called "Machan," produced by filmmakers from Sri Lanka and the UK. It turns out the "players" lived in Sri Lanka's slums and wanted a better life for themselves.
Who are some other notable defector athletes?
1956 Olympics: Hungary's Olympic water polo team was in Melbourne, Australia, to defend its gold medal from the 1952 Helsinki Games when troops from Soviet Union stormed into Budapest, Hungary's capital city, to quell a brewing revolution. The team made the decision not to return to Hungary. Ironically, this decision came after the Hungarians defeated the Soviet team for the gold medal. In fact, 48 Hungarian athletes ultimately decided to remain in Melbourne after receiving strong financial and emotional support from the Australian city's Hungarian community. Many of these athletes eventually made their way to the US and became Americans after taking part in the Hungarian Freedom Tour, sponsored by Sports Illustrated magazine. 
2012 Olympics: During the London games, 15 athletes from African countries including Cameroon, Sudan, Congo, and Ethiopia went missing. Several of them later requested asylum in the UK. 
Alexander Mogilny: This Russian hockey player boarded a plane in Stockholm at the end of the 1989 World Ice Hockey Championships and defected from the Soviet Union to North America. He had been drafted 89th in the 1988 National Hockey League's Entry Draft and wound up playing in the NHL until 2006. 
2018 Commonwealth Games: More than 200 African athletes and officials who traveled to Australia for the Commonwealth Games claimed asylum. Some of the athletes vanished in between events, while others did not even show up for their events. Those who went missing included a third of the Cameroonian delegation, a half-dozen Ugandans, and a Rwandan weightlifting coach who went to the restroom while one of his athletes was competing and never returned. 
Cuban baseball players: Various top and budding Cuban players have defected from their native country to play in professional leagues in the US. Among the best known are Major League Baseball stars Orlando "El Duque" Hernandez, Aroldis Chapman, Jose Abreu, and Jose Fernandez. Abreu fled his nation on a 20-foot boat that traveled 12 hours through treacherous waters to Haiti. El Duque escaped by boat too and was stranded on a deserted island for days before the US Coast Guard found him. 
Romanian gymnastics: Coaches Bela Karolyi and his wife, Marta Karolyi of Romania, defected to the US in 1981. They had been incredibly successful coaches,  including coaching Nadia Comaneci, the first gymnast to receive a perfect score. (Comaneci defected to the US from Romania in 1989.) After defecting, the Karolyis are credited with transforming American gymnastics, successfully coaching US athletes and teams to dozens of Olympic medals. But the coaches have also been accused of creating an environment at their Texas training facility, the Karolyi Ranch, that allowed for abuse of athletes.