What's New at The Juice for the 2021 Fall Semester
This past winter we publicly announced The Juice: A learning platform that empowers educators in making individualized learning decisions and engages students in the 5th through 12th grade with short-form content that develops the critical skills needed for their success in the 21st century.
In the months since our launch, we have seen The Juice enter classrooms, community groups, and homeschools across the country (and globe!). At the same time, our team of educators, journalists, and technologists have expanded and enhanced our learning platform. As the school year comes to a close, we wanted to share what we have been working on and provide a sneak peek into The Juice's future.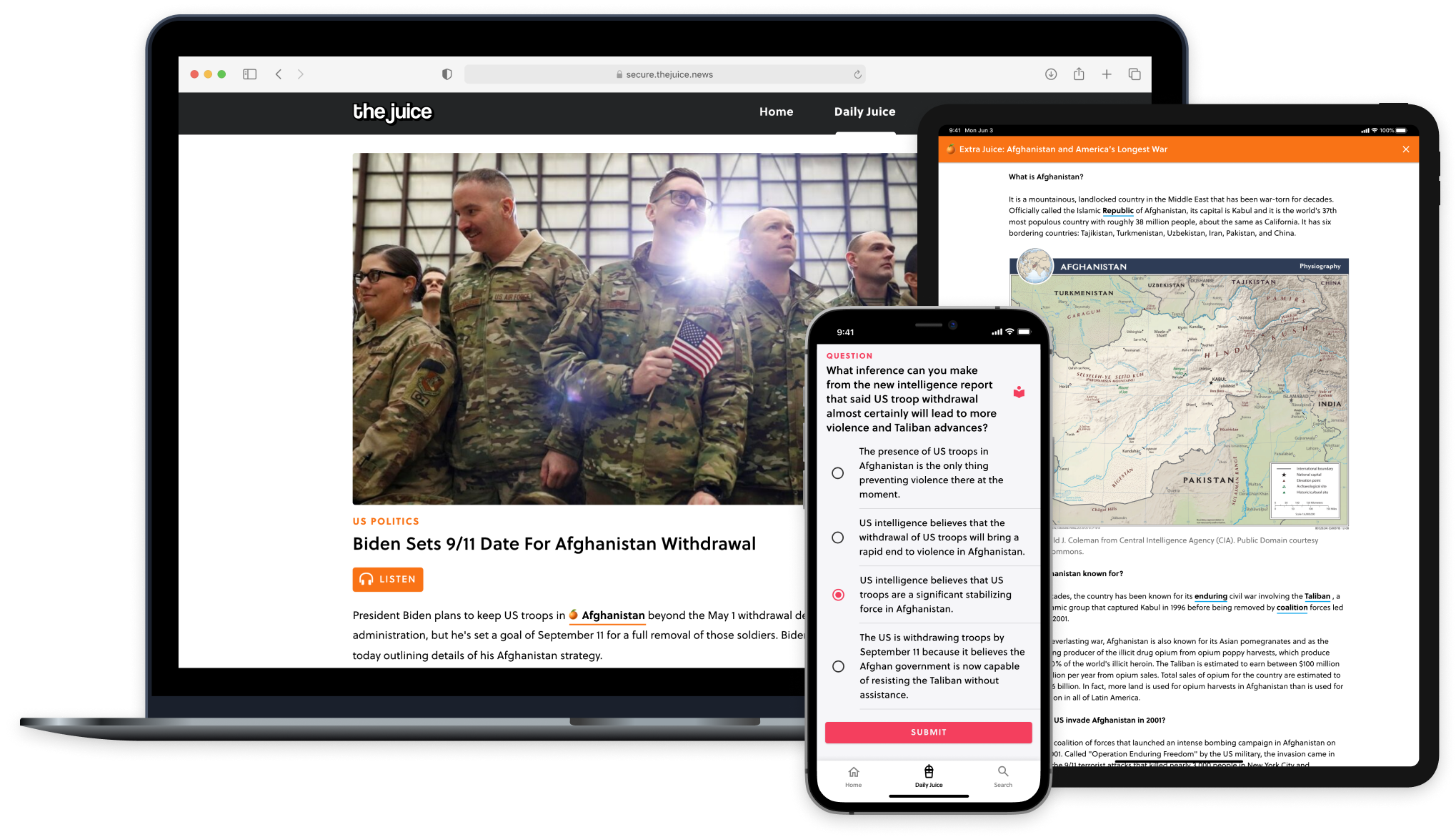 Earlier this year we conducted the first of many educational assessment studies which—confirming the statements from our early reviews and teacher testimonials—found The Juice helped students make real academic progress:
Students who read The Daily Juice for four weeks saw clear improvements in their reading comprehension skills, as well as their knowledge of current events and civics. Students also became more confident having conversations with parents and friends about the news.
Students also found The Daily Juice to be a reliable and unbiased source of information:
In focus groups, students specifically noted a difference between The Juice and other new sources including mainstream news organizations such as CNN and Fox News, as well as social media.
At the same time, we have worked at furthering the educational impact of The Juice by adding a series of new features that empower educators to make the most informed learning decisions while enhancing the student experience to boost engagement and development. In the coming weeks we will dive deep into these features on our blog, but we want to provide a brief overview of these new features today:
👩🏽‍🏫 Teacher Portal, Accountability, and Search
The teacher portal was designed as an educator's personal mission control. From the portal, educators can:
Monitor student activity with accountability data;
Customize their class'​ version of The Juice;
Access all four reading levels of differentiated text;
Search and assign materials from our library of content; and
Analyze student performance metrics, including on key learning standards.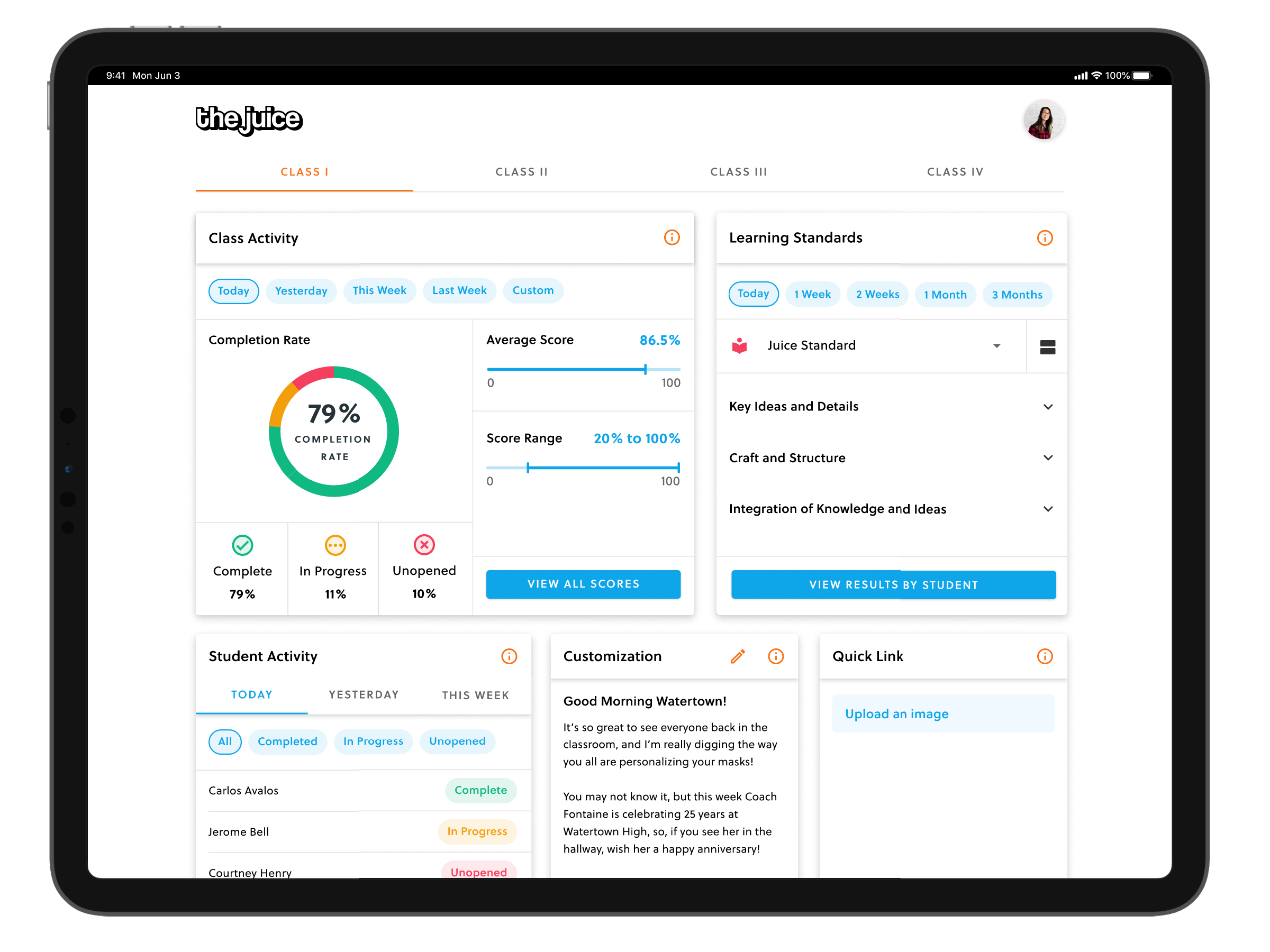 🔗 Learning Management System Integration
Lessening the load on teachers, teachers can swiftly assign issues and articles to Google Classroom from their portal. The Juice will support further integrations with Google Classroom and introduce new, robust integrations with leading LMS'​ including Canvas, Schoology, and Moodle by the fall school semester.
📊 Standards Reporting and Data
The Juice recently released its largest reporting and data update with Standards 1.0. Educators can now:
Quickly track student and class progress on key Common Core and Juice-specific standards;
Search and assign new content based on standards;
Conduct differentiated remediation based on standards mastery;
and more.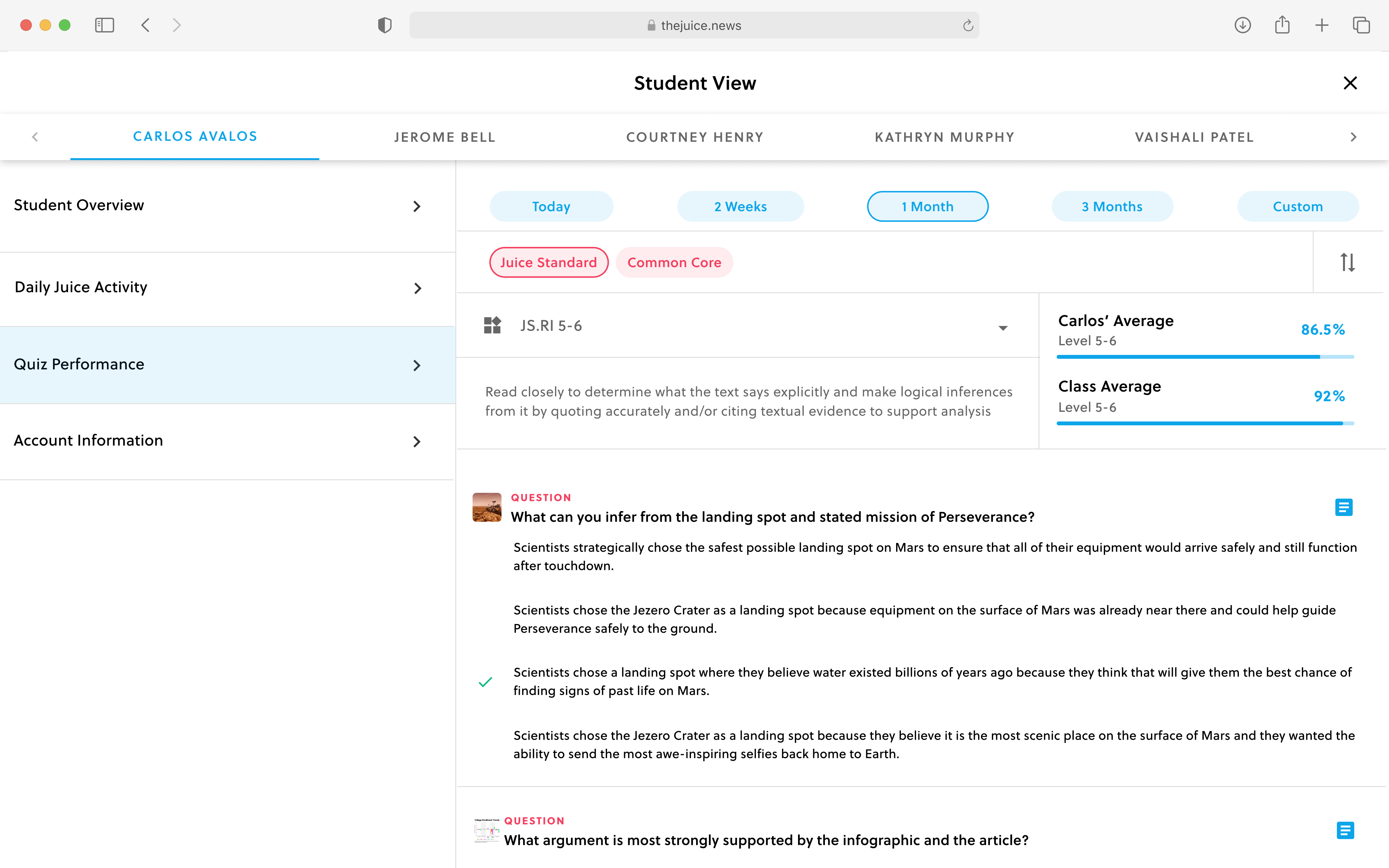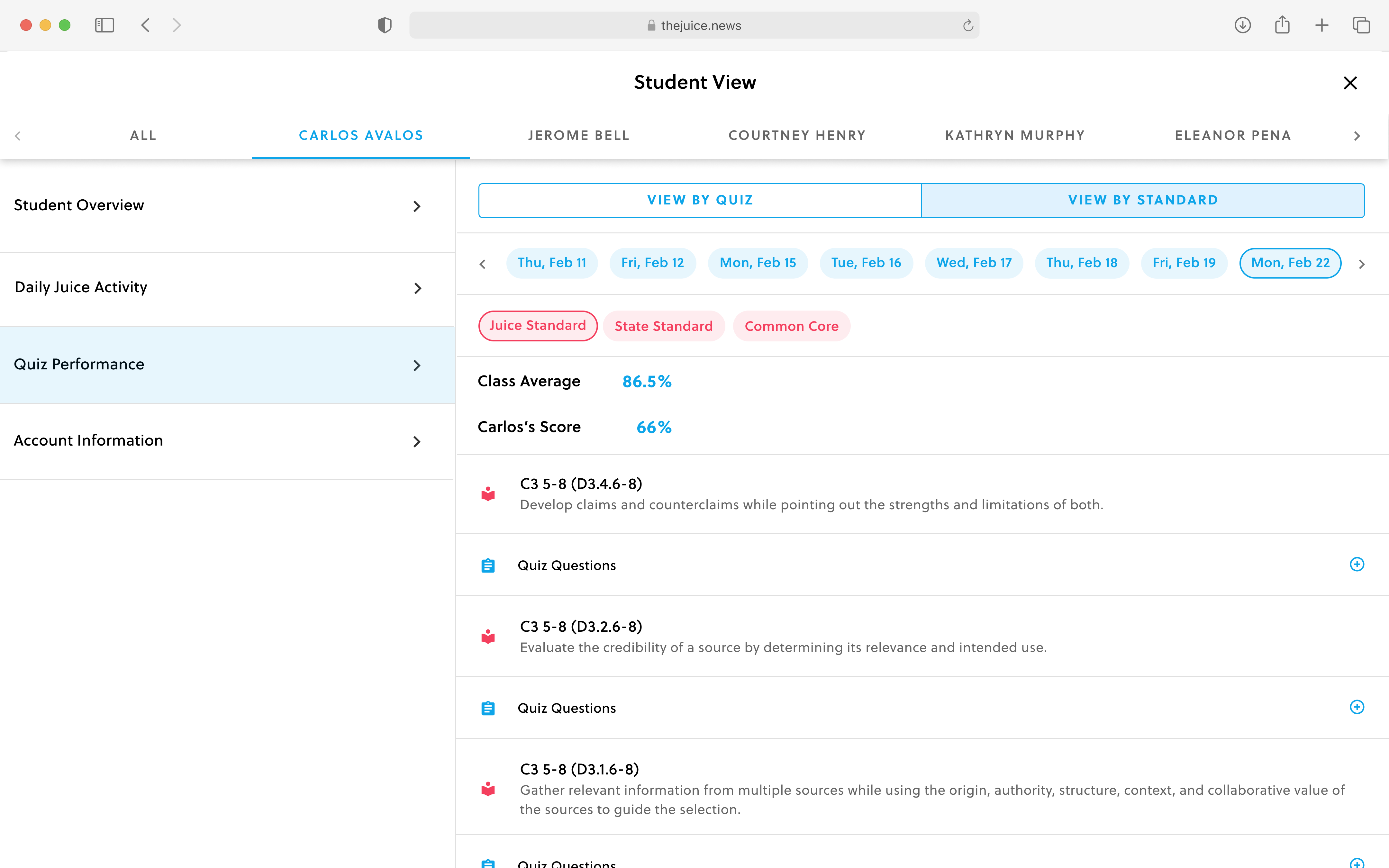 In an age of diminishing attention spans, informational text and literature need to be reimagined for the classroom. Engaged students are effective learners, and high-quality short-form, fact-full content is the key to sparking engagement and curiosity in the TikTok Generation.
Textbooks are static—often outdated and detached from the real-world. They make student engagement challenging. By contrast, in 200-250 words students reading The Juice could: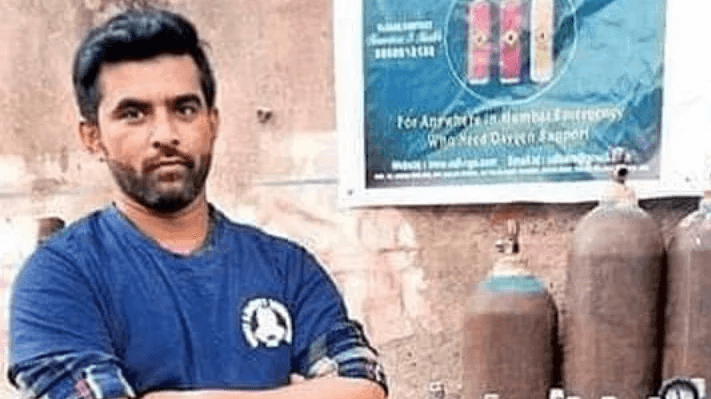 The Lifesaving Mission of COVID-Ravaged India's "Oxygen Man"
An Indian businessman has emerged as a hero for bringing life-saving oxygen to thousands of COVID-19 patients as the pandemic ravages his country. Shahnawaz Shaikh is known as "The Oxygen Man."
The Lifesaving Mission of COVID-Ravaged India's "Oxygen Man"
An Indian businessman has emerged as a hero for bringing life-saving oxygen to thousands of COVID-19 patients as the pandemic ravages his country. Shahnawaz Shaikh is known as "The Oxygen Man." He began his mission after the death of his best friend's pregnant sister, who passed away while waiting outside an overwhelmed hospital for a bed. Oxygen would have saved her life, Shaikh says. 
Shaikh, whose construction company went out of business during the pandemic, founded Ray of Hope in June to provide free oxygen. He initially spent $2,000 of his own money to buy 30 oxygen cylinders. But soaring demand quickly outstripped supply. So, he sold his SUV so he could buy another 160 cylinders.   
An online fundraiser has since brought in more than $60,000, and Shaikh's initiative has provided free oxygen to nearly 7,000 patients in and near Mumbai, India's largest city, and covered medical costs for some. He gets 500 to 600 requests a day. 
A devastating second wave of the pandemic in India has set records for new infections and deaths. It has led to dire shortages of hospital beds, medical workers, and oxygen. 
Says Shaikh: "This is the time of need when human beings need to help one another, so it is essential to be that human being and help those in need."
What is the connection between Shahnawaz Shaikh being referred to as "The Oxygen Man" and the effects of the second wave of the pandemic in India?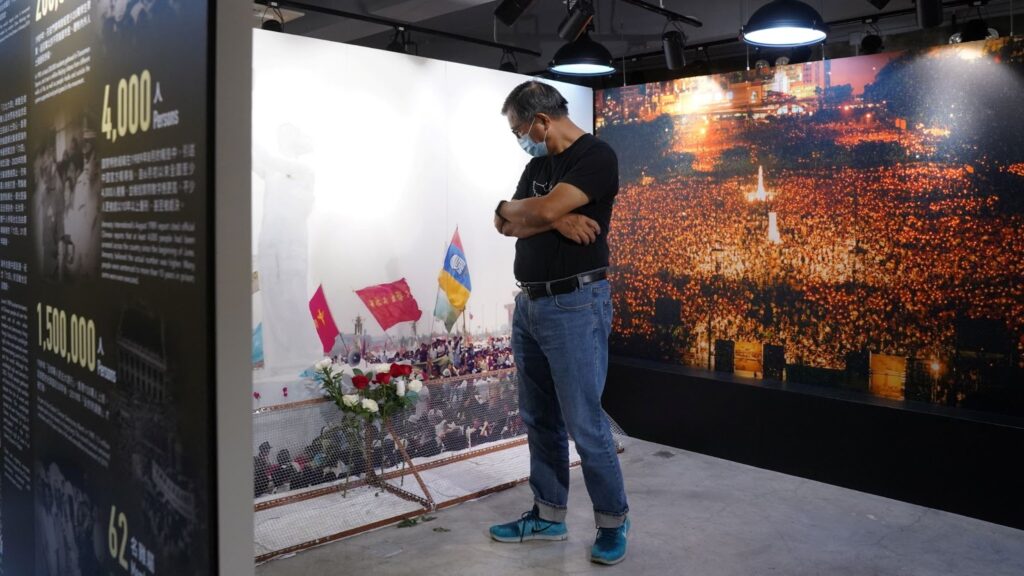 32 Years Later, China Still Trying To Wipe Tiananmen Uprising from History
China's ruling Communist Party is still trying to erase the
Tiananmen Square massacre from memory. 32 years ago today, China brutally clamped down on pro-democracy demonstrators at Beijing's main public square.
32 Years Later, China Still Trying To Wipe Tiananmen Uprising from History
China's ruling Communist Party is still trying to erase the
Tiananmen Square massacre from memory. 32 years ago today, China brutally clamped down on pro-democracy demonstrators at Beijing's main public square.
Estimates of the Tiananmen death toll in 1989 vary widely. They range from several hundred to 10,000. Still, Chinese Communist Party officials have tried to suppress that information. They've also hidden much else about the deadly crackdown. Activists who were imprisoned have told journalists that they are still surveilled by authorities. Even those who have escaped to other countries are said to be monitored.
China now is extending that suppression to the semi-autonomous city of Hong Kong. China has been tightening its control over Hong Kong in recent years.
A candlelight vigil had been regularly held on June 4 in Hong Kong to honor those who gave their lives in the pursuit of democracy. But Hong Kong authorities banned the vigil last year. They did so again this year. And, on Wednesday, a museum in Hong Kong dedicated to the event was closed. Officials claimed it is being investigated for improper public licensing.
How does the last paragraph of the article contribute to the central idea?
🍊 Extra Juice: Tiananmen Square Protests
What was behind the Tiananmen Square protests?
During April and May 1989, hundreds of thousands of Chinese activists, mostly college-age students, gathered daily in the public center of Beijing, the capital city of China, to demonstrate against the ruling government. They called for democratic reforms and demanded the ouster of members of the ruling Chinese Communist Party who were deemed the most repressive toward citizens and reformers.

What launched the protests?
Demonstrations began after the death of longtime politician Hu Yoabang, who was revered by pro-democracy activists for his advocacy of freedom of speech and freedom of the press. About 50,000 students marched to Tiananmen Square's Great Hall of the People to attend his memorial service. Leaders then delivered a petition to Premier Li Peng demanding a meeting to talk about democratic reforms. The government refused such a meeting, and students across the country boycotted universities and massive protests started being held daily on Tiananmen Square, attended now not only by students but by intellectuals, everyday workers, and civil servants.

What was the significance of Tiananmen Square itself? Why gather there?
It was the site of longtime Communist Party leader's Mao Zedong's proclamation of the People's Republic of China in 1949.
How long did the protests last?
They lasted from April 27 through May. On May 20, the government formally declared martial law in Beijing, calling in troops and tanks to disperse the crowds, which had grown into the hundreds of thousands. However, the huge number of protesters blocked the army's advance, and by May 23 government forces had pulled back to the outskirts of Beijing.
How did the demonstrations become so violent?
By June 3, negotiations to end the demonstrations had come to an impasse. The next day, Chinese troops were ordered to clear Tiananmen of demonstrators in any way possible. On June 4, tanks and other militarized vehicles stormed the square. Soldiers fired indiscriminately into the crowds, killing an untold number of demonstrators while arresting thousands more.
How many people were killed?
Estimates vary widely. The US ambassador and western journalists reported that it seemed as if several hundred were killed and hundreds more were injured, which was in line with official Chinese government numbers. But the Swiss ambassador estimated 2,700 had died, as did the Chinese Red Cross, although the Red Cross later denied releasing such a figure. However, a cable from a British diplomat that was declassified in 2017 said deaths reached 10,000. The British cable described horrific details of Chinese army units killing students with bayonets as they begged for their lives.
What happened in the immediate aftermath of the Tiananmen massacre?
Hard-line authoritarians took control of the country's government and launched a countrywide crackdown on dissidents and demonstration organizers. An unknown number of dissidents were rounded up, jailed, and executed.
How did the world respond?
The international community was aghast at images being broadcast around the globe and at the sheer level of violence Chinese authorities had inflicted on their own citizens. The US and Western nations imposed crushing economic sanctions on the country, sending China's economy into a downward spiral. By late 1990, trying to appease a world that had turned against it, the Chinese government released several hundred imprisoned dissidents. This assisted in the restoration of international trade, and China's wounded economy would begin to mend.
What has happened since then?
The Chinese government has worked to suppress all details of what happened at Tiananmen and scrub the bloody moment from Chinese history. Relatives of dissidents and those who died are still monitored by Chinese authorities. As the anniversary approaches each year, those believed to be dissidents are detained and jailed. No public vigils to remember the tragic day are permitted.
One former activist, Fan Boalin, who subsequently went to work for the government's security network, was arrested in 1999 for allegedly providing information to pro-democracy exiles. He was jailed until 2016, and believes he is among many dissidents still surveilled by authorities. "Once you are on the Chinese government's blacklist, you will be tracked for life," Fan told the Associated Press.
What about vigils in Hong Kong and other places?
Events to remember the victims of Tiananmen Square were held openly in Hong Kong and Macao, Chinese territories under less control from the ruling government in Beijing. But in recent years, Communist Party rulers have tightened control over those regions, and banned any events that mark Tiananmen's anniversary.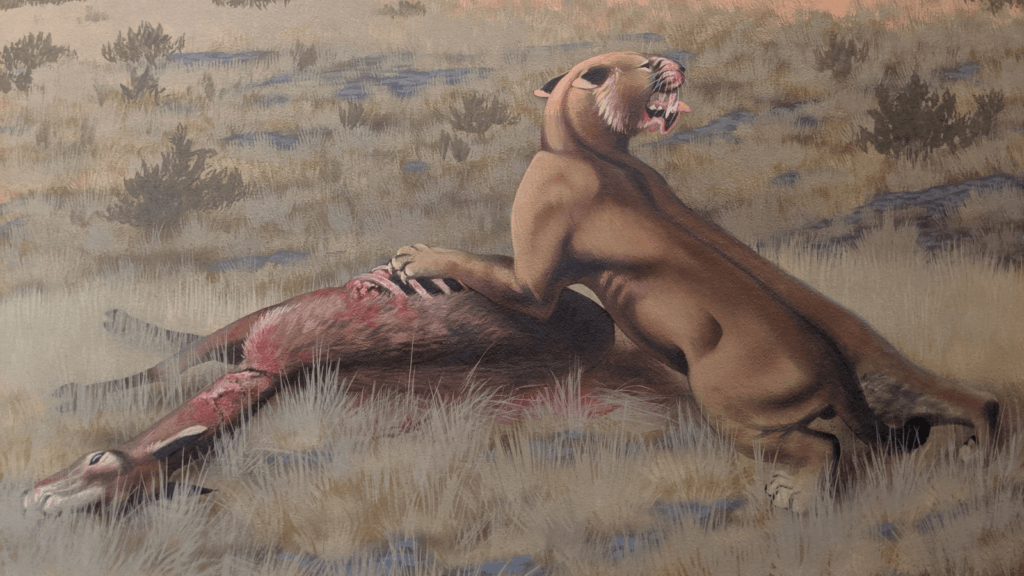 Giant Prehistoric Cats Devoured Rhinos in North America Millions of Years Ago
A newly discovered gigantic saber-tooth cat roamed North America 5-9 million years ago and devoured prey like 6,000-pound rhinos. The prehistoric predator weighed in at around 600 pounds, making it the biggest known cat of its time.
Giant Prehistoric Cats Devoured Rhinos in North America Millions of Years Ago
A newly discovered gigantic saber-tooth cat roamed North America 5-9 million years ago and devoured prey like 6,000-pound rhinos. The prehistoric predator weighed in at around 600 pounds, making it the biggest known cat of its time. It's also one of the biggest ever found, according to a new study in the Journal of Mammalian Evolution.
Researchers discovered the fossils in northeastern Oregon. The fierce cats had long, razor-sharp teeth protruding from their mouths. With powerful forearms and great body mass, the cats also are believed to have feasted on huge camels and ground sloths, along with other prey that weighed several tons.  
We have known that giant cats prowled Europe, Asia, and Africa 10 million to 10,000 years ago. But the new find also shows they lived in North America during the same period. It remains unclear whether the newly discovered cats evolved independently on different continents.   
The fossil specimens were excavated on the traditional lands of the Cayuse tribe. In honor of the tribe, the researchers named the cat Machairodus lahayishupup. In the Old Cayuse language, Laháyis Húpup means "ancient wild cat."
What does the use of the words "prehistoric predator" convey to the reader?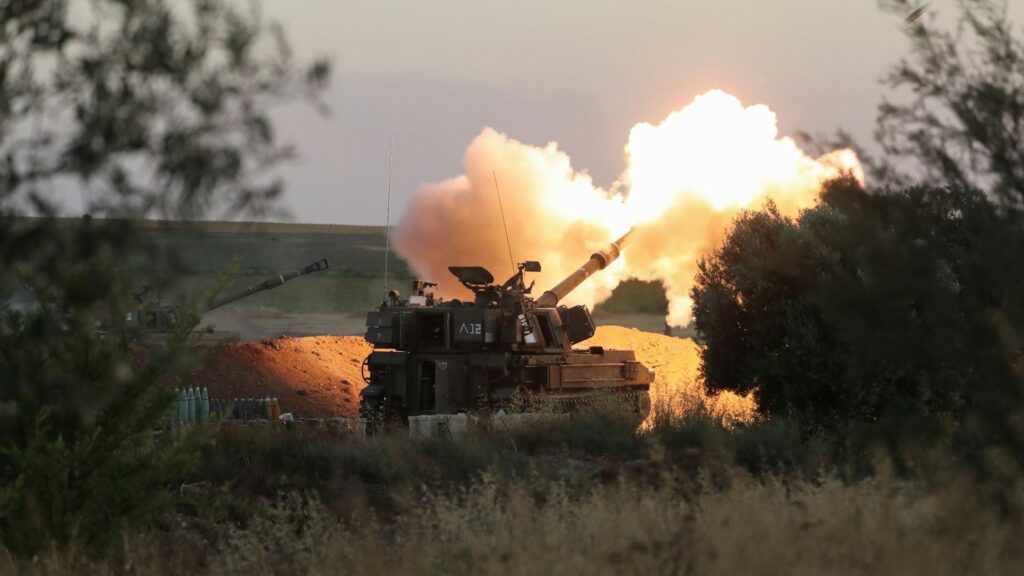 Rift Between US and Israel Appears to Grow
The relationship between the US and Israel, one of its closest allies, is facing one of its most serious tests. President Joe Biden increased his public pressure on Israeli Prime Minister Benjamin Netanyahu.
Rift Between US and Israel Appears to Grow
The relationship between the US and Israel, one of its closest allies, is facing one of its most serious tests. President Joe Biden increased his public pressure on Israeli Prime Minister Benjamin Netanyahu. Biden wants Israel to end the fighting with the Palestinian group Hamas, which the US considers a terrorist organization.
The White House says Biden told Netanyahu "that he expected a significant de-escalation" on Wednesday. Biden hoped that would be the beginning of a "path to a ceasefire." Analysts believe the public comment about the conversation between the two leaders indicates Biden is losing patience with Netanyahu.
Netanyahu responded by saying he appreciated "the support of the American president." But he vowed to press on with intense airstrikes on Gaza. Hamas is mostly based there.
The 🍊 current fighting between Israel and Hamas began on May 10. That's when Hamas began firing hundreds of rockets into Israel. Most of them targeted Jerusalem. The rocket fire followed days of clashes between Israeli police and Palestinian protesters in an area holy to both Jews and Muslims. Those clashes, together with protests over the threatened eviction of some Palestinian families in East Jerusalem, inflamed the tensions.
Israel responded by bombarding Gaza. Its airstrikes have damaged or destroyed hundreds of buildings. At least 12 Israelis and 227 Palestinians have reportedly died in the conflict.
Also on Wednesday, officials confirmed several rockets had been fired from Lebanon into Israel. That risks the possibility of the conflict expanding into a dangerous regional war.
What can you conclude from the details in the article?
🍊 Extra Juice: A Never-Ending Struggle Over the Holy Land
What is Israel?
It is a country in the Middle East along the Mediterranean Sea that is regarded by Christians, Muslims, and Jews as a holy land. Israel, the world's only Jewish State, has a population of roughly 9 million and is relatively small, about the size of New Jersey.
Israel was founded as an independent state in 1948 under the United Nations Partition Plan for Palestine, which was meant to create an Arab state, a Jewish state, and an independent city of Jerusalem. The countries that formed the Arab League rejected the plan and began a war against the new state of Israel. Israel won the war and greatly expanded its territory, including control of West Jerusalem.
Israel has a complex history that includes periods of peace and war, particularly among religious groups, which have both expanded and reduced its territory.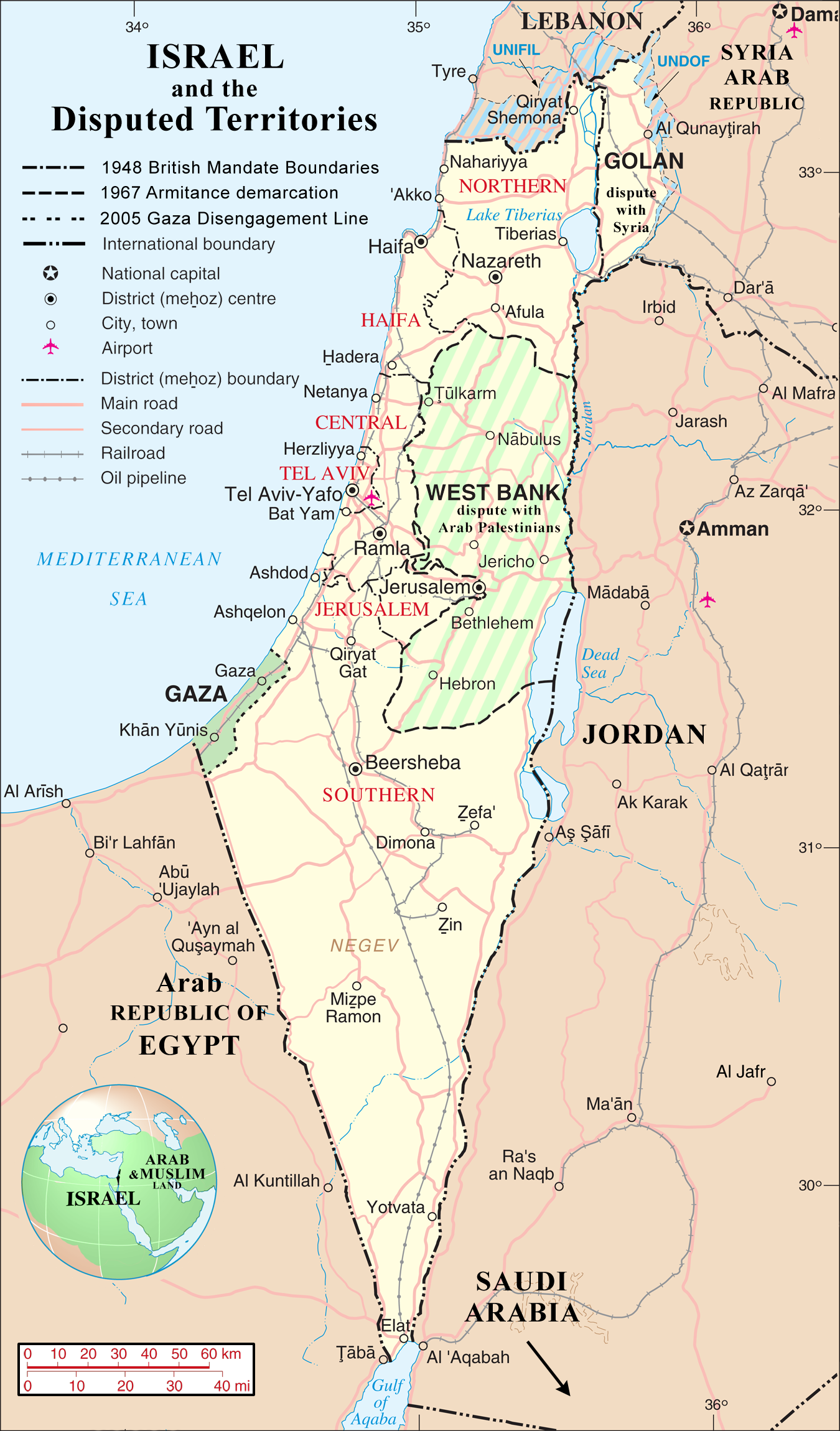 Public Domain courtesy Wikimedia Commons.
What is Palestine and a Palestinian?
Palestine is a small region of land in the Middle East, amid what is present-day Israel, that has played a large role in ancient and modern religious and political history. Palestine has been at the center of violence because of its historic and cultural value to various religions. Its history, in fact, is marked by violent battles for control of its land. Modern-day Arabs who are considered Palestinians have long wanted to create a free Palestinian state on this land, which brings them in continual conflict with the Jewish state of Israel.
The State of Palestine is recognized by the UN and most of its members, but not the US or most European nations. It covers two territories that aren't connected. One is the West Bank (between Israel and Jordan) and the other is Gaza (bordered by Israel, Egypt, and the Mediterranean). It claims East Jerusalem as its capital, but is run from the West Bank city of Ramallah. Most Palestinian leaders, however, consider all of Israel to be theirs.
What is Hamas?
Founded in 1987, Hamas is a Palestinian-rooted militant group that is designated as a terrorist organization by the US, Israel, and other nations, although not by the United Nations. Israel and Hamas have engaged in various conflicts and wars of varying degrees in recent decades over control of land considered to be holy by each side. Hamas has explicitly stated that its goal is the destruction of Israel as a state.
What are the West Bank and Gaza Strip?
The West Bank is territory located between Israel and the country of Jordan. Gaza is territory that borders Israel and Egypt. Control over these regions also has been the source of continual conflict and war, and there is no international agreement on which country or religious group has rights to them. Many areas that Palestinians claim as their rightful land have been controlled by Israelis for years, sometimes bringing Israel and Palestinians into deadly conflict.
Leadership in those territories, for all practical purposes, is split between two different Palestinian factions. The Palestinian Authority, under the leadership of the Fatah party, is technically in control of both the West Bank and Gaza, but Hamas is effectively in control of the latter .
What is Jerusalem?
Besides the West Bank and Gaza, Jerusalem is at the center of the conflict between Israelis and Palestinians. Israel captured all of the city of Jerusalem in the 1967 Six-Day War, along with the other two territories. Jerusalem straddles the border between Israel and the West Bank. Palestinians regard all three as theirs and want control of them as a future Palestinian state, with the eastern part of Jerusalem to serve as the capital. But Israel annexed East Jerusalem in the 1967 war, although that move has not been recognized internationally. The control of East Jerusalem has been one of the most contentious issues in the failed peace process between Israelis and Palestinians. Jerusalem is one of the oldest cities in the world and is home to some of the holiest sites to Christians, Jews, and Muslims. The Old City of Jerusalem consists of four quarters: the Jewish quarter, the Muslim quarter, the Armenian quarter, and the Christian quarter.
What's happened in recent weeks inside Jerusalem?
Israeli police and Palestinian protesters have clashed violently around Jerusalem's Old City, a walled area of less than a mile in the center of Jerusalem that is the oldest part of Jerusalem. This area constituted the entire area of Jerusalem until the late 19th century. The confrontations between Israeli police and Palestinians focused on a disputed hilltop compound within the Old City. Jews refer to the area as the Temple Mount because it was the location of biblical temples. Muslims refer to the plateau as Haram esh-Sharif (the Noble Sanctuary), and consider this area the third holiest in Islam. It is the site of the Al-Aqsa Mosque and the Dome of the Rock, another important Islamic shrine. Clashes there last week injured several hundred Palestinians, 21 Israeli police officers, and seven Israeli citizens.
The latest fighting began when Israel moved to block some Palestinian gatherings at the beginning of the Muslim holy month of Ramadan, a time of heightened religious sensitivities. After those restrictions eased, Israel planned to push out dozens of Palestinians from an East Jerusalem neighborhood, which ignited further confrontations.
On May 10, Israelis were to mark Jerusalem Day, a national holiday that celebrates the annexation of the city. Some Israelis, usually religious nationalists, have marched through the Old City as part of that celebration. These marches have been viewed by many Palestians as provocative in nature, especially this year, since they are following other hardline Israeli nationalist events in recent days in Jerusalem that have provoked altercations with Palestinians. This year's march did not go through Muslim areas.
So, all of these incidents have evolved into a more widespread collision between the two sides?
Yes. On Sunday, Israel and the Palestinian militant group Hamas pounded each other with airstrikes and rockets in the deadliest day since the conflict erupted last week. Israeli airstrikes destroyed three major buildings in Gaza City, killing at least 42 people, and Hamas launched rockets from inside Gaza, one striking a synagogue .
Might tensions between the two sides cool down?
The situation doesn't appear to be moving in that direction. Israeli Prime Minister Benjamin Netanyahu warned that the fighting could continue for some time. He said Hamas crossed a "red line" with the rocket launches. "Whoever attacks us will pay a heavy price," Netanyahu said.
What is the US saying?
President Biden told Netanyahu Wednesday that he "expected a significant de-escalation" in the conflict that would provide a path to a ceasefire. But Netanyahu vowed to continue Israel's intense airstrikes on Gaza, though he said he appreciated "the support of the American president." Analysts believe that the White House making the comments public signals that Biden's patience with Netanyahu is wearing thin.
📓 Student Portal and 📰 Daily Juice Redesign
We recognized that students have their own specific needs like teachers, so we created a password protected portal for them as well. The Juice's student portal is designed to make learning easy, accessible, manageable, and engaging and make them feel in charge: Students can:
The student reading experience of The Daily Juice was also revamped. The new and improved card-based interface implements a stronger use of patterns to aid in recognition, improves our audio-playback features to boost accessibility, and encourages students to work through material at their own pace.
While we cannot share all the features and projects our team is working on right now, we wanted to offer a sneak peek into what you can expect from The Juice Team over the next few months:
The Juice is considering a new offering which complements the informational text offering of The Daily Juice called The Juice LIT.
The Juice LIT is our concept for a new literature-centered product that reimagines reading for the TikTok Generation. Combining a serialized archive of classic texts, diagnostic standards-aligned quiz questions, and recommendations based on reading level, The Juice LIT delivers bite-sized, engaging literature for students in the 5th through 12th grades and granular performance and accountability data for teachers and administrators.
In combination with The Daily Juice, The Juice LIT would form the foundation for our comprehensive and engaging ELA platform for 21st century education.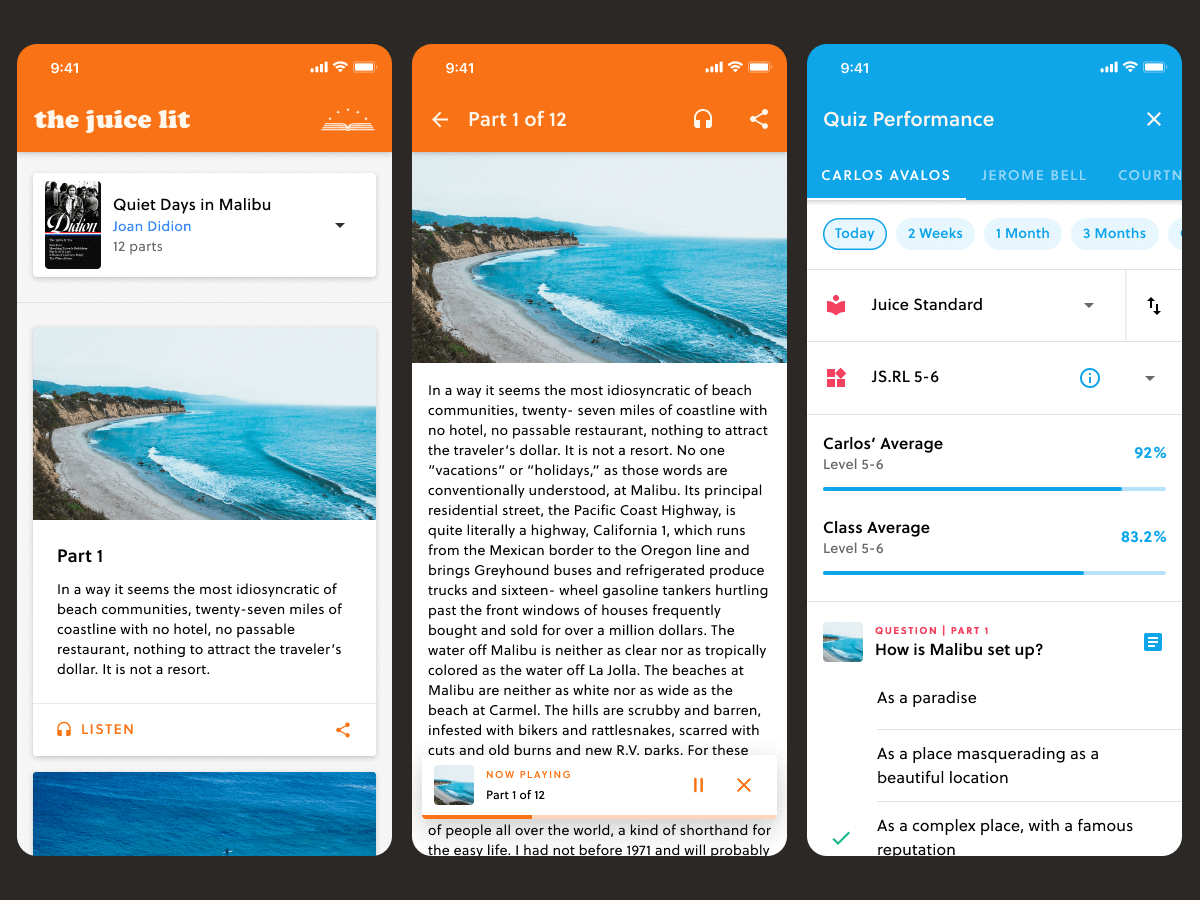 Fill gaps in your curriculum, reach struggling learners with engaging content, and tailor your lesson plans to meet the needs of your students with Bundled Content.
This fall educators will also be able to bundle together new and old content from The Juice—articles, 🍊 Extra Juices, Life Hacks and other STEAM-related videos—to assign to their students or share with their fellow educators, selecting content based on subject matter, quizzed standards, and reading level.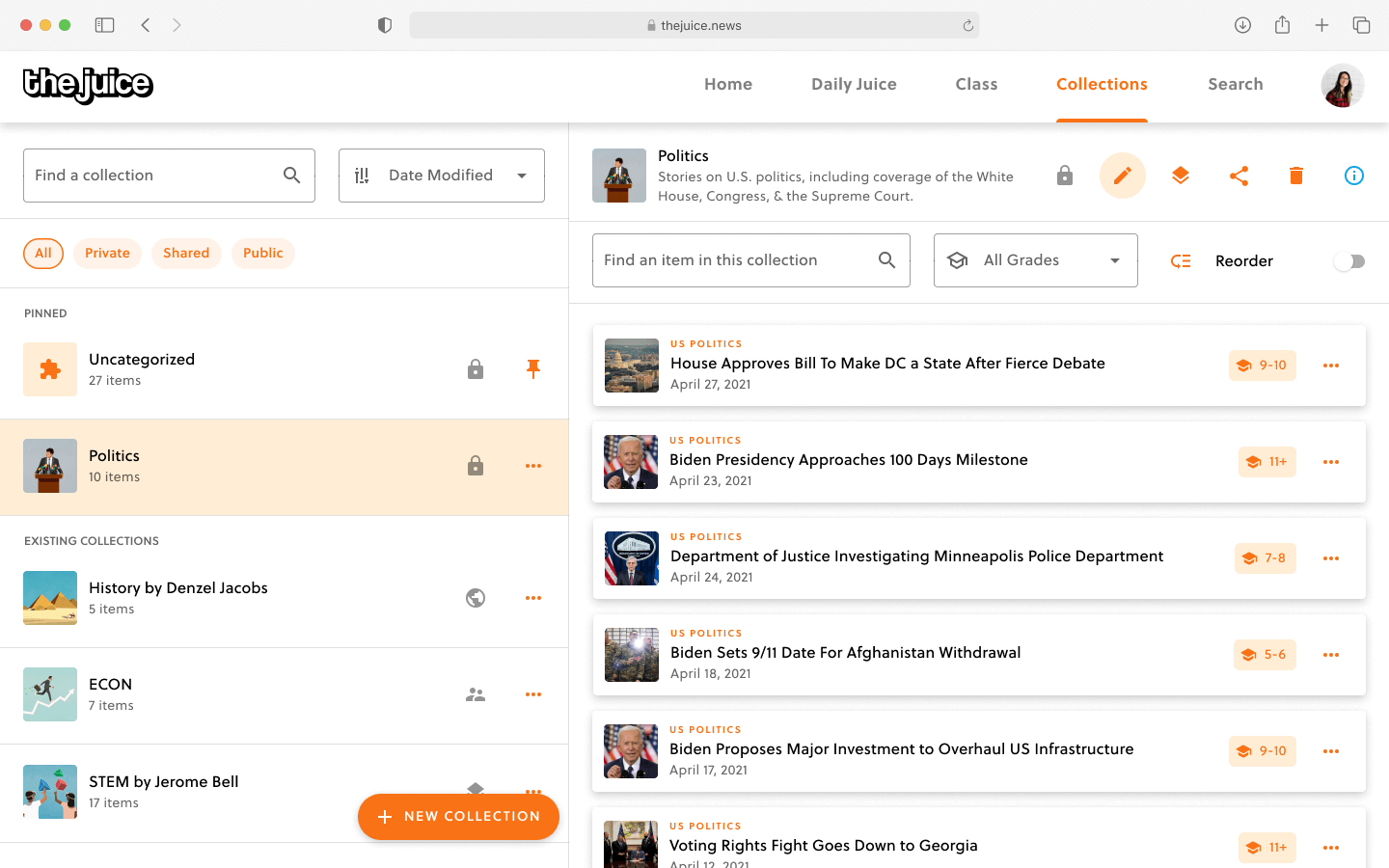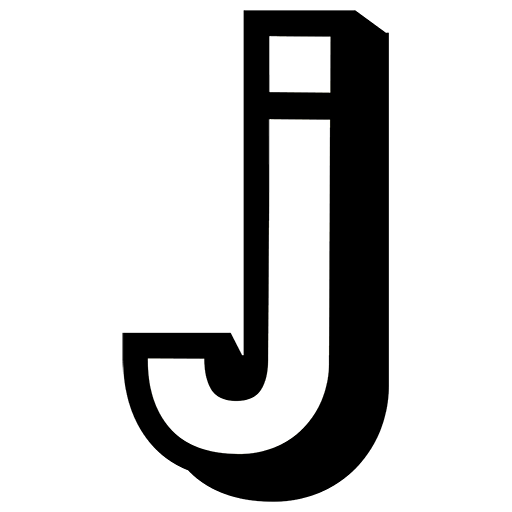 Our learning platform for grades 5-12 delivers daily engagement for your students in 10-15 minutes while supporting their success in the classroom and beyond.
The Juice helps students in grades 5-12 improve performance and skills mastery across key learning standards. New, relevant content is created daily and written at 4 different reading levels, providing all students appropriate access and enabling them to participate in classroom discussions.
Sign up today for a free, no obligation trial and see how The Juice can spark learning and maximize engagement with your students.