As educators, we know how frustrating it is to find an amazing new curriculum resource but never have the bandwidth to figure out the best way to use it in your classroom. That's why we're here to help with seven easy ways to incorporate The Juice into your daily lesson plans!
Here are 7 easy ways to use The Juice
1. Begin or end your class with vocabulary.
"Do Nows" and "Bell Ringers" are quick, independent, or collaborative activities that require minimal guidance from the teacher. These activities are a great way to help smooth out transition times in the classroom (in-person or virtual), while also introducing or reviewing new vocabulary.
Every Juice article highlights a range of Tier 2 or Tier 3 vocabulary words. Whether these words are new to students or they just lack the confidence to use the words fluently, using vocabulary to structure your "Do Nows" and "Bell Ringers" will help students be better prepared to understand what they are about to read and to remember new vocab words after they leave the class! Here are a few ways to incorporate The Juice vocab into your daily routine!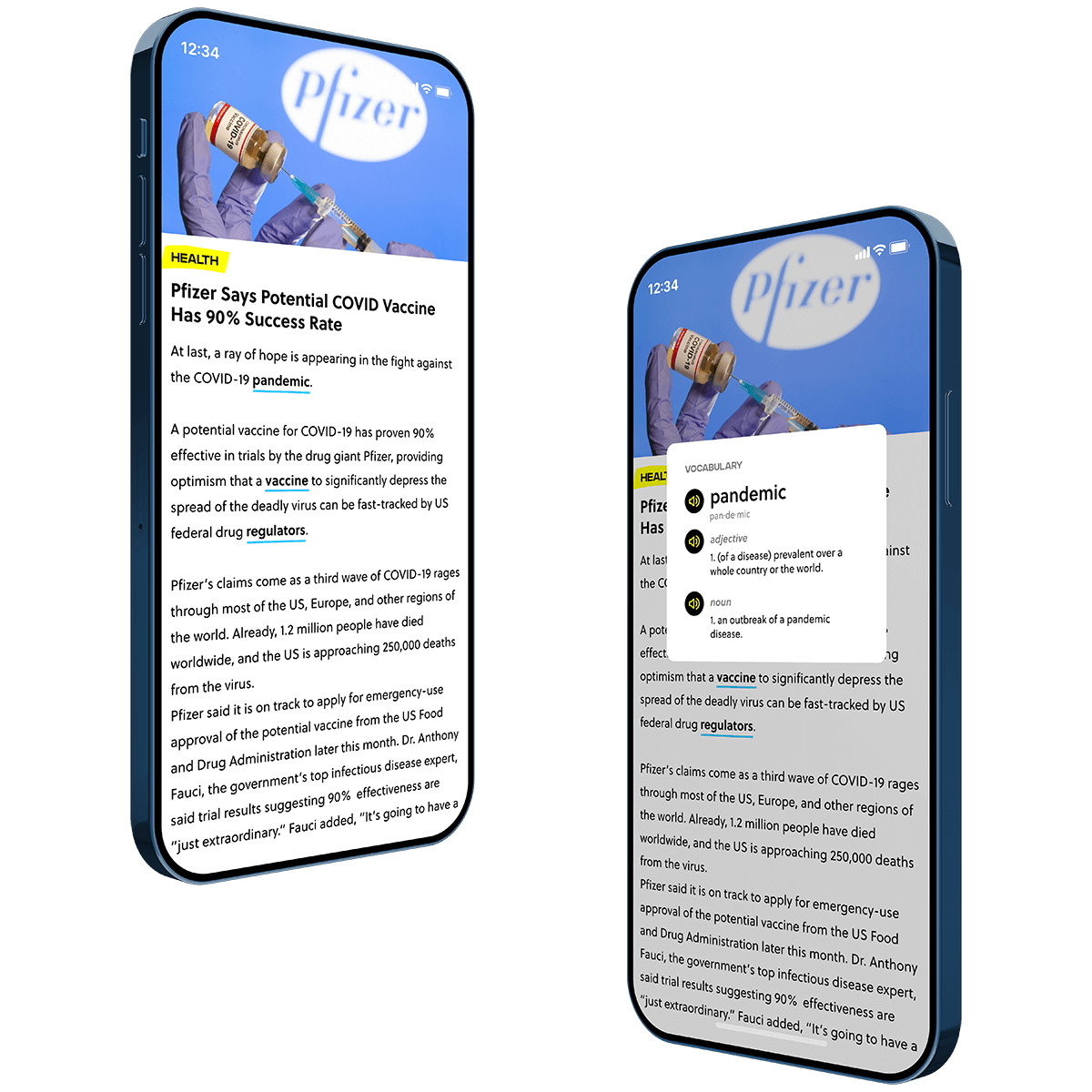 Ask each student to fold a piece of paper into four quadrants and then choose one vocab word to make a Four-Square Strategy graphic organizer.
Tap into students' creativity by asking students to sketch-note the relationship between different new vocabulary words.
Play a simplified version of Taboo. Ask students to define the vocab words for their classmates without using the word itself. (For an extra challenge, give them other keywords to avoid.)
Play Two Truths and a Lie. Ask students to choose a word from an article and then write down four statements about that word. Ask them to think about the part of speech, the definition, synonyms, antonyms, and connotations. One of the statements they write should be a lie. Now, ask the class to guess the lie.
BONUS: Keep track of how many times students can appropriately use the Word of the Day during class.
2. Create a visual for a story.
While The Juice focuses on written text, visual storytelling is a powerful tool and an invaluable tool for students in our contemporary multimedia news landscape. Ask students to find an image to accompany one of The Juice's daily articles. Use these questions to prompt further discussion:
What is the source of your image?
Is the image "reliable?" How do you know?
Can images be biased?
What does this image you chose add to our understanding of the article?
How does this image shape our perspective on the article?
Compare the images that students choose to see how pictures can change our relationship to written content.
For an additional challenge, ask your students to combine the power of data and visual communication to create an effective infographic that captures the important information from an article. Use the following questions to prompt further reflection:
What is the difference between written and visual communication?
How do these two kinds of communication work together?
How do infographics contribute to our understanding?
Can infographics stand alone as a source of news?
3. Questions. Questions. Questions.
Instead of giving students questions to answer after reading an article, ask them to generate their own! Encourage them to focus on questions not already answered within the article, focusing especially on open-ended higher order questions that will challenge them to think critically and maybe even look to other sources for more information.
After students have come up with as many questions as they can, students can choose questions to research and discuss in small groups.
Come back together at the end of class to share what everyone has talked about. This collaborative effort will help the whole class develop a more nuanced understanding of the article and, if all goes according to plan, will leave students with more questions than they had when they started.
4. Write your own Juice-style story.
Is there a current event that all your students have been talking about? Have them read up on it, and then write their own Juice-style version of the story. Remember, like The Juice, these articles should be:
300 words or less
Topical
Objective
Highlight and define key vocabulary words
To give this activity an extra twist, ask all your students to write their article based on the same couple of sources. Check out aggregated, unbiased News and News for ideas. Students will be able to see the wide range of writing styles and interpretations that can come from the same set of material!
5. Make connections!
If you use The Juice in your classroom on a daily basis, by the end of the week students will have read at least 25 articles! This is a great opportunity to help students see patterns and connections between what they've read. Ask students to choose 3-5 articles they read this week and then create a mindmap to represent how these articles relate to each other. Check out some of these creative mind maps for inspiration!
6. Fact check!
The Juice is "committed to delivering fresh, non-partisan, and reliable news every day." Ask your students to confirm that claim with evidence! Choose an article and compare The Juice version to other articles on the same topic from different sources. What do you notice? How are the articles similar? Different? Do you notice any bias in either article?
7. Write your own "Extra Juice."
You'll notice that some of The Juice's daily articles include a little "Extra Juice." This feature (marked by a delicious-looking orange) allows readers to take a deep dive into a key term or topic of the article – topics like the Paris Climate Agreement, vaccines, or citizen journalists. The Extra Juice is a chance for students to get a better understanding of the context and background of what they're reading. In your own classroom, ask students to choose a key concept from an article and then elaborate on it by writing their own "Extra Juice" to explain the concept in more depth and then share it with their classmates.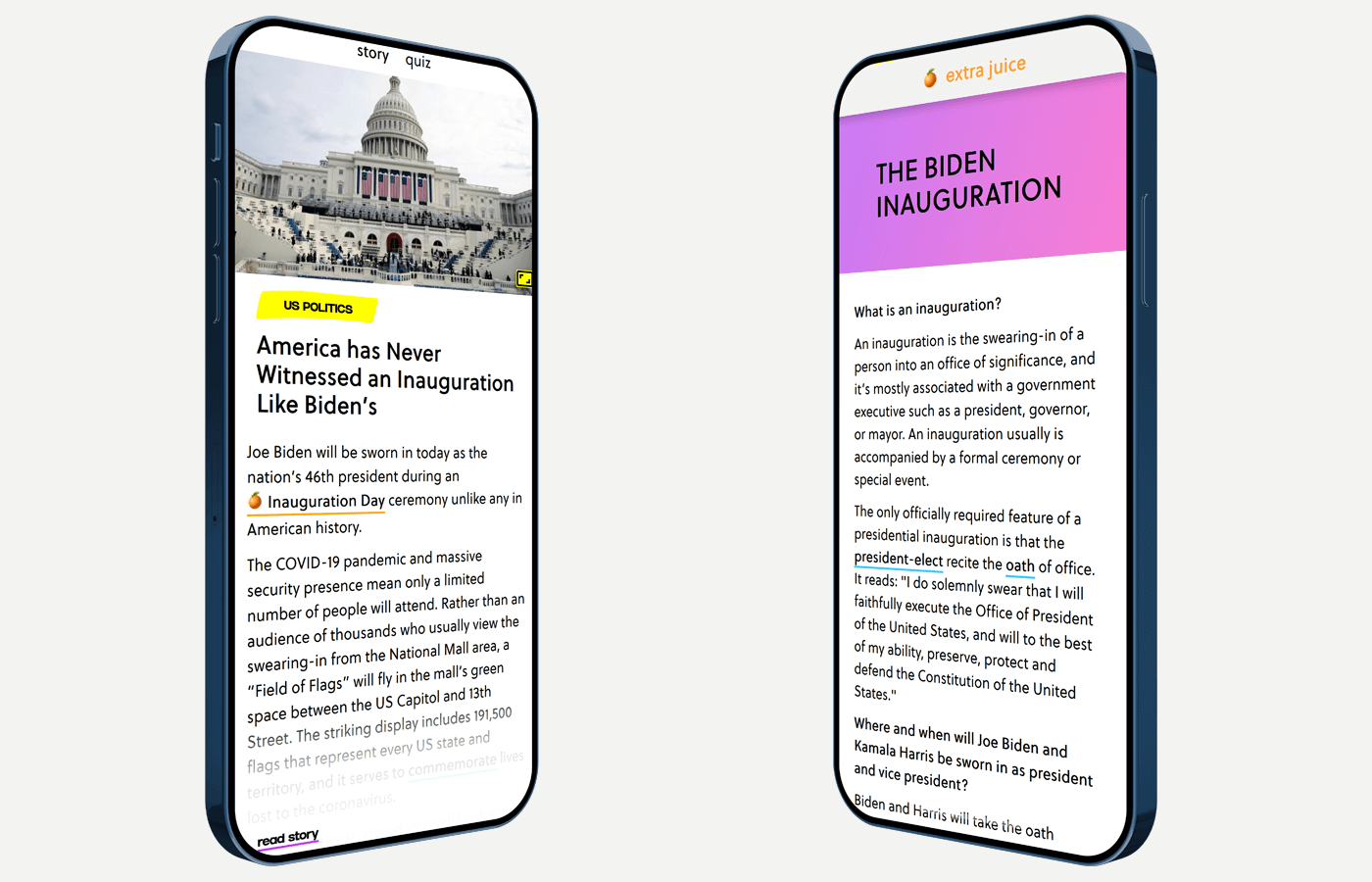 A little extra Juice!
Need a bonus activity that will get your students to tap into their hidden talents and tucked away trivia factoids? Have your students create their own "Life Hack" videos. These bite-size STEAM-related videos (included in every edition of The Juice) are intended to teach readers something they might not already know — whether it's how to create DIY speakers, figure out if sunglasses are polarized, or learn some unknown facts about the history of Mount Rushmore.
Give your students a couple examples, a rubric, and the freedom to explore, then let them become the teachers. Now sit back and discover a few new life hacks of your own!
You're not alone!
These are just a few of the hundred ways to incorporate the The Juice into your curriculum. Whether it's the foundation upon which you build your lessons, or the warm-up you use to jump start students' critical thinking, we're here to help!
The Juice is a learning platform AND a community. As you try out some of these ideas, we'll be right here with you, to help your students become practiced and passionate critical thinkers and to make your lives a little easier in the process.
We can't wait to hear how you use some of these activities, and to see what other brilliant ideas you come up with!