BUILD THE STRONG READERS OF TOMORROW
WITH THE CURRENT EVENTS OF TODAY
Read the Latest Daily Juice!
Designed for grades 5-12, The Juice delivers each day 5 current events articles at 4 differentiated reading levels.  Each article is linked to vocabulary builders and formative standards-based assessments. Each issue includes infographics, SEL articles and STEAM video content.  
Each night our team of educators and journalists create our original content so it's fresh in the morning. By 6am every school day, you receive news and feature articles, related instructional materials, and formative assessments to support engagement and rigor in the classroom.
Squeeze the day! Explore The Juice below. Review every article and linked assessment, infographic, and vocabulary in today's issue at each reading level, or review previous articles from this week.
Relevant Content
Daily, original nonbiased current events and news content you can trust to make learning personal, relevant, and contextual for every student.
Spark engagement and curiosity with high-quality content that generates questions, discourse, and extends learning beyond the classroom.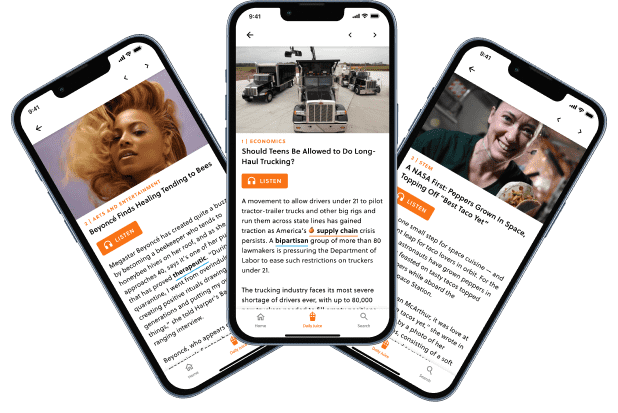 Purposeful Reading
Deepen learning with daily authentic informational text articles designed to build reading comprehension, critical thinking, and skills mastery.
Students build academic and domain vocabulary and knowledge in context to support success across the curriculum.
21st Century Skills
Reinforce 21st century skills every day with robust numerical and information literacy practice.
Equity & Inclusion
Differentiated at four reading levels, The Juice helps you meet every learner where they are regardless of reading ability.
Point of use embedded scaffolds give you powerful support for English language learners and students with learning differences.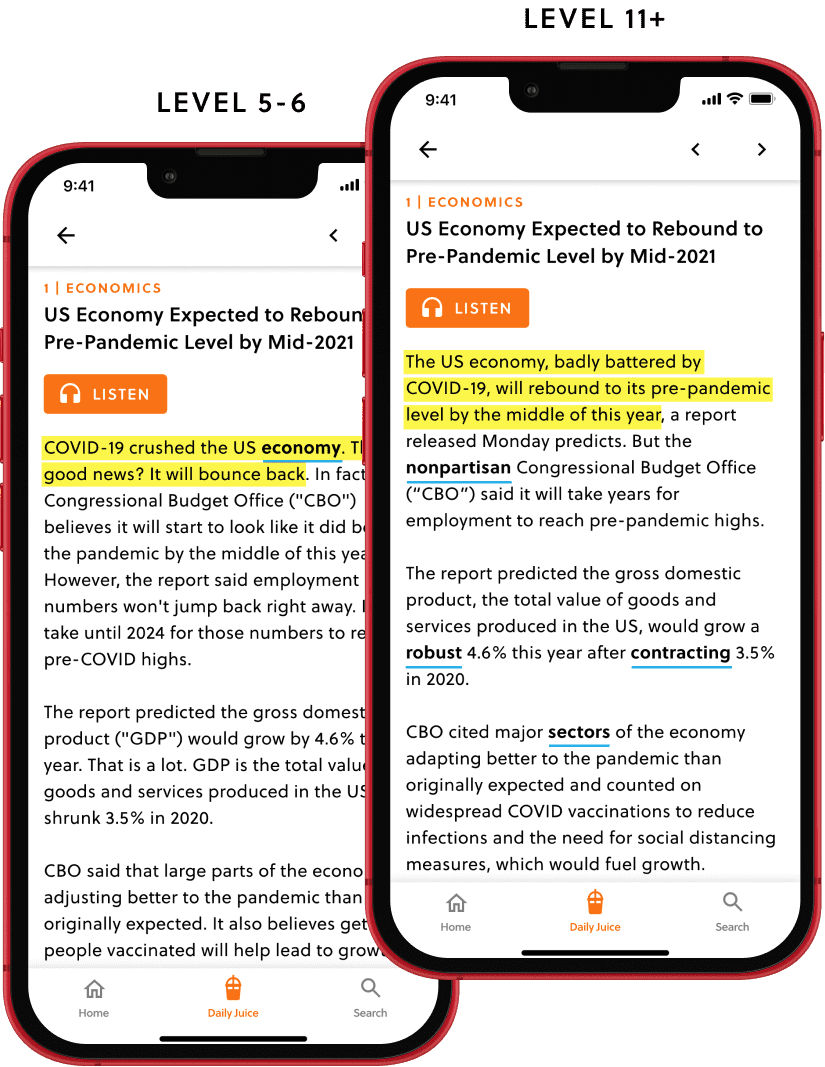 News Literacy
Easily incorporate news and media literacy into the classroom to help students develop the skills and competencies needed to successfully navigate our complex information world.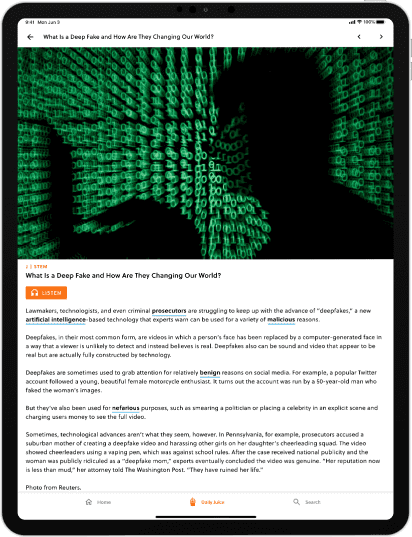 Data-Driven Approach
At-a-glance actionable student data to help monitor progress towards skills mastery.
Real-time diagnostic insights on student performance for just right, and just in time, intervention and enrichment.
Home Learning & Family Fun
The Juice publishes the same content at 4 different reading levels so regardless of reading ability from 5th grade on it can be enjoyed by the entire family.
30-day money back guarantee.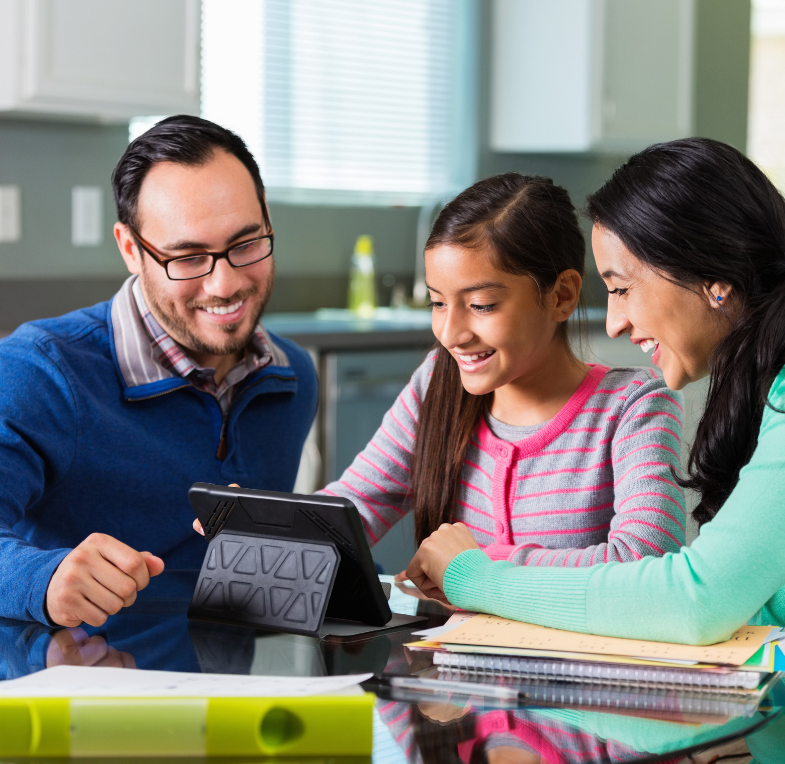 Endorsed by Educators. Loved by Students. Trusted by Parents.
My students use it daily. They really bought into the platform while we were following a highly charged trial in the country and the students recognized that the summary of the issue at hand was delivered in the most informative way in The Juice. One student commented, "It seems as if the cable news websites are trying to tell me how to feel about the event, The Juice is just telling me what happened." That is when I knew this would become a part of my daily practice."
Jason Manning, NBCT
Oceanside High School, Social Studies Department
The Juice is helping my students make connections. We were talking about the climate and one of the kids made a cross-reference, "Hey, this directly relates to our article that last article in The Juice!" ... I was like, "Oh, my Gosh… So they ARE making those connections." It was really powerful..
Ms. Evans
Wisconsin Educator
My students and I love using Juice Learning! The Daily Juice is easy to use, provides me with the data I need, and the current events in the articles give us plenty to discuss. Highly recommend!
Laura Steinbrink
High School ELA, Waynesville R-V School District
I've really enjoyed using "The Juice". As a technology integrator and former elementary Social Studies Teacher, I find that the articles and website format are engaging and thought provoking. In today's fast paced world of information and misinformation it's so important to have a resource that provides multiple perspectives and relevant articles that are levelled for students.
Andrew Wheelock
Technology Coordinator, Western New York Regional Information Center
I get such a thrill from listening to my 6th and 10th grader discuss the same news stories with each other at the dinner table. Our dinner conversations have never been so interesting. Thank you Juice!
Christina K.
Mom from Miami, Florida
I think I am a smart kid and this made me smarter.
Sabrina F.
Harvard Student from San Juan, Puerto Rico
Quickly supplement and build academic literacy across the curriculum with our expanding archive of standards-aligned, non-fiction content. 
Built-in Formative Assessments
Find the Content you Need in a Snap
With The Juice, you have a robust library at your fingertips to use for enrichment, project-based learning, the 4 C's, or inquiry-based lessons, that can be shared with your students or other teachers. Students love to use the content library to support their research and independent reading! 
See for yourself. Just type in your term below, click the search icon, and see the breadth and depth of content available to support ELA, Social Studies, Science, and History teachers! Our ever-expanding library includes original articles, infographics, Extra Juices, and videos! All searchable by standard, keyword, category, and reading level!
Content that Connects to the Classroom and the World
Standards-aligned, The Daily Juice provides flexibility and can be used with your core instruction, as a daily bell ringer, as well as content support for intervention, enrichment, credit recovery, and extended day/year programs.