As we come to the end of Black History Month, it's important to find ways to creatively and strongly end this month of celebrating Black history. We have come up with a few activities to incorporate in these last few days of class, as well as in other months throughout the year. If you're looking for some creative ways to celebrate, check out our ideas below: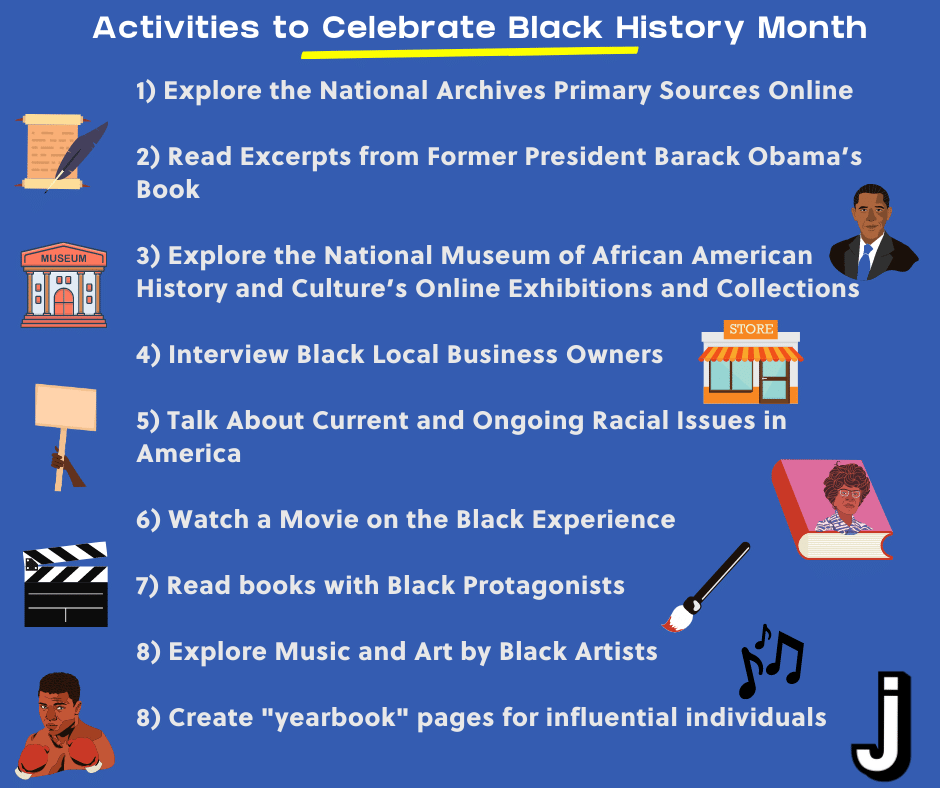 1. Explore the National Archives Primary Sources Online
The National Archives has thousands of primary sources throughout Black history in America, from Slavery to the Civil Rights Movement. The National Archives have an educational and helpful website for finding primary sources from a range of historical moments, like the investigation of allegations regarding the assassination of Dr. Martin Luther King, Jr.
For a classroom activity, use a "Think, Pair, Share" strategy for students to dive into finding and learning about a primary source. Assign a topic to students, such as "The Great Migration," and allow students time in pairs to find and present one primary source from that moment in history.
Check out the entire catalog of sources here.
2. Read Excerpts from Former President Barack Obama's Book
Former President Barack Obama recently released a memoir of his life and presidency, titled A Promised Land. While the book itself is over 700 pages, NPR released five clips of Obama reading excerpts from his memoir, including passages detailing when he became a senator, winning the presidency, and his grandmother.
You can find the reading excerpt clips here! Try listening to them all as a class before discussing the monumental change that happened when the United States elected its first Black President, and different moments throughout Obama's life that brought him to run for president.
3. Explore the National Museum of African American History and Culture's Online Exhibitions and Collections
Since its opening in 2016, the National Museum of African American History and Culture has hosted millions of visitors. For those who can't travel to Washington D.C. to see the exhibits in person, the Smithsonian has launched online exhibits and collections. The Open Access Initiative includes thousands of images of objects from the museum, while the online exhibit tour explains different exhibits at the museum and the topics and objects inside of them.
Both can be viewed virtually, and cover topics like Activism, Civil Rights, Clothing and Dress, Hip Hop, and Literature (to name a few).
For a classroom activity, create an online object scavenger hunt, giving students clues to find different specific collection objects from eras or topics discussed in class. For more creativity and open-ended exploration, divide students into groups and assign them to explore an exhibit, sharing 5 objects or topics from that exhibit.
The online collection of objects at the NMAAHC can be found here. An online guide to the museum's exhibits is located here.
4. Feature a Local Black-Owned Business
Another fun way to celebrate Black history in Ameria is to invite a local Black business owner to class. As a classroom guest, invite them to talk about their experiences as a business owner and what they do. Ask each student to prepare a question for your guest focusing on the business they own, why they started it, and what day-to-day looks like. As a class, talk about the importance of celebrating and supporting Black-owned businesses in your area, what they contribute to your local economy, and how everyone can help support these businesses.
5. Learn about an HBCU
HBCU stands for "Historically Black Colleges and Universities." In 1964, the Higher Education Act of 1965 defined HBCU as "any historically black college or university that was established prior to 1694, whose principal mission was, and is, the education of black Americans . . ." Though started due to academic segregation, HBCUs celebrate diversity, challenging academics, increased interactions between faculty and alumni, and higher graduation rates.
There are 107 HBCUs in the United States, mostly located in the Eastern and Southern regions of the country. For this activity, either you or students select an HBCU to research and talk about as a class. Discuss the following questions:
What is the historical background of this HBCU?
What are strong programs at this college/university? What is the school known for?
Does the college have any famous alumni?
How many students attend this school?
Not only is this a great opportunity to learn more about higher education, but we can also honor HBCUs that started due to a terrible moment in America's history, and continue to thrive and celebrate their history today.
You can find a full list of HBCUs here.
6. Talk About Current and Ongoing Racial Issues in America
While it's important to understand the America's Black history, we need to balance teaching history with learning about how it has affected current issues ongoing today in our country. Slavery was a dark moment in our nation's history, but it doesn't define what it means to be Black in America today. At the same time, racism still lingers in our country and affects Black lives daily.
In the past few years, we experienced racial unrest in response to continued police brutality and systemic racism in the United States. These topics can seem intimidating and hard to discuss, it's important to teach students about the movement they are living through, and the trials and difficulties BIPOC still face daily in America.
For resources on how to talk about Black lives at school, click here. The NEA also recently launched a series of videos for anti-racist educators. You can read more about and find links to their video series here.
7. Watch a Movie on the Black Experience
A great way to end the celebration of Black History Month is with a movie! Watching a movie as a class is not only entertaining for everyone, but is an impactful way to introduce students to a topic, event, or experience in a vivid and entertaining way.
The following movies are appropriate for older elementary grades through high school age groups, and convey important moments and topics in Black history:
Queen of Katwe (2016), ages 8+
Hidden Figures (2016), ages 10+
The Great Debaters (2007), ages 13+
The Hate You Give- rated (2018), ages 13+
Selma (2014), ages 13+
Most importantly, remember that these activities are great for any time of the school year. Black History Month is an important month to stop, reflect, and celebrate Black history. As Black History Month comes to a close, consider ways to considering celebrating and learning about the BIPOC experience every month.