At The Juice, we are always looking to improve our content to ensure our teachers, parents, and students are getting the most out of this resource. As we outlined a few weeks ago on our LinkedIn page, we have brought in a series of new improvements to our learning platform since our Early Access launch this past Fall. In today's post, we will go in more depth into some of the features we outlined in that post—and stay tuned for upcoming posts which will go over the rest.
New Search Feature for Teachers and Parents
Our new search feature will help teachers and parents navigate and find relevant material. Rather than trying to scroll through past days to find previous articles, you can simply type keywords into the search bar and see all our past articles on that topic.
This will allow teachers to quickly search through our catalog to find materials that fit your lesson or topic of discussion. Teachers will easily have access to even more current events articles in addition to their Daily Juice topics.
Teachers can use past articles to compare and contrast daily articles, engage in discussions on how today's topics relate to past topics, increase source material for discussions, projects, and papers, or revisit past material to see how the narrative has changed as more information develops in the news.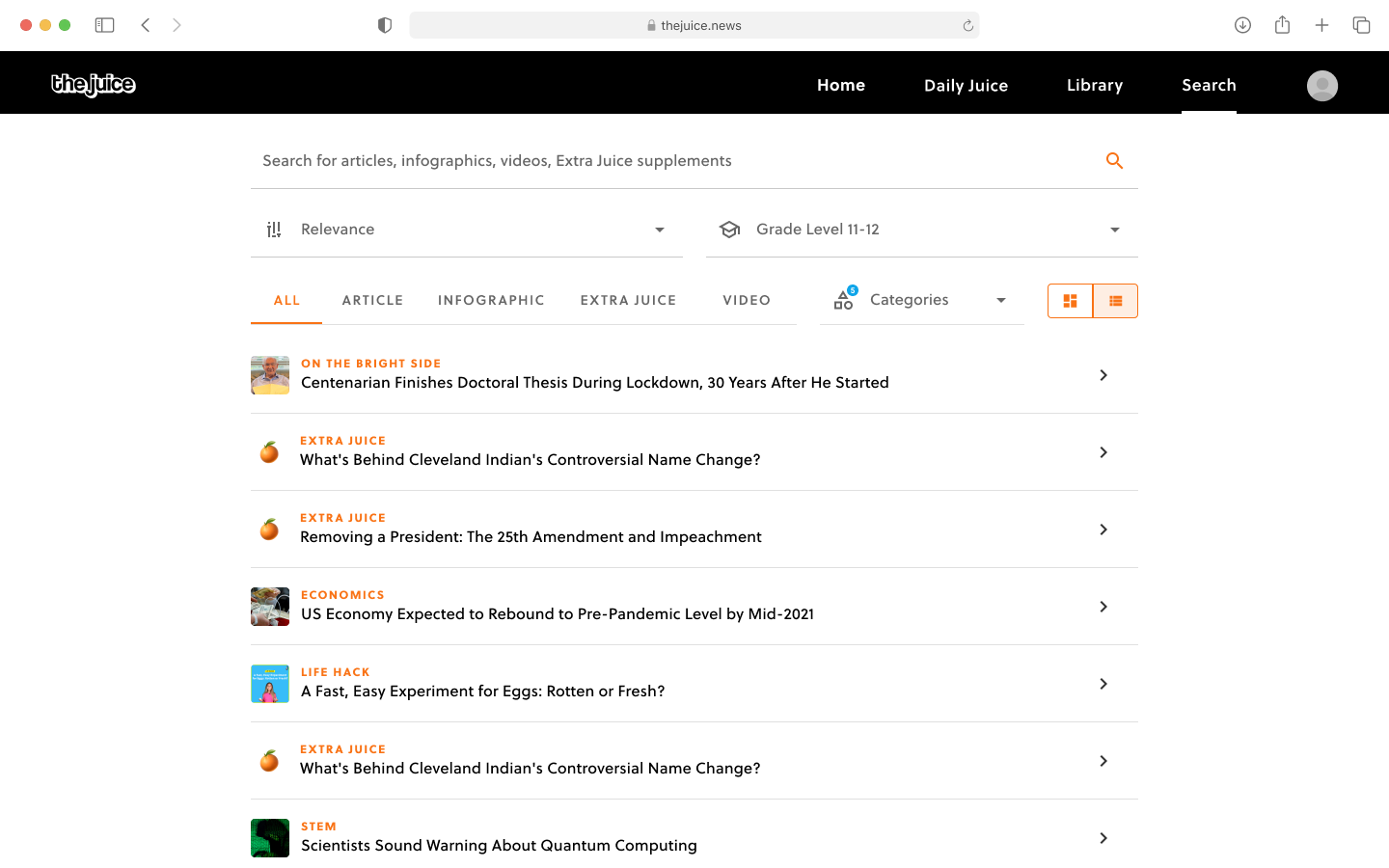 The search feature also allows parents to search for related articles on The Juice that support current events topics they find at home in the newspaper or on the news channel. This can aid at-home discussions and allow parents to teach their children how to find information across multiple sources.
New Interface for Students
With our new and improved interface, students are more in charge of their own learning. We improved the design so students can easily hop in and out of stories and work at their own pace. If students skip a quiz, or decide to read another issue first, they can easily go back to a previous story at a later time. Students will get a message at the bottom of each article heading that lets them know if they skipped a quiz, allowing them to stay more organized.
The activity overview is another tool that organizes student tasks so they can easily see which articles they have read and quizzed on, and what still needs to be done. A personalized Score Report allows students to see their quiz progress and easily jump to questions they missed without scrolling around to find the article.
On the Home Page, students can see their average quiz scores across days, weeks, and months. Seeing this progress can motivate students to compete with their own scores and increase their attention as they read each article. This also allows teachers to track progress and keep an eye on their students' understanding.
On the Home Page, students can find the Explore tab, where they will now have easier access to Life Hack videos and Extra Juice. Students can explore different topics or videos that catch their attention which helps spark interest and intrigue into a variety of research ideas.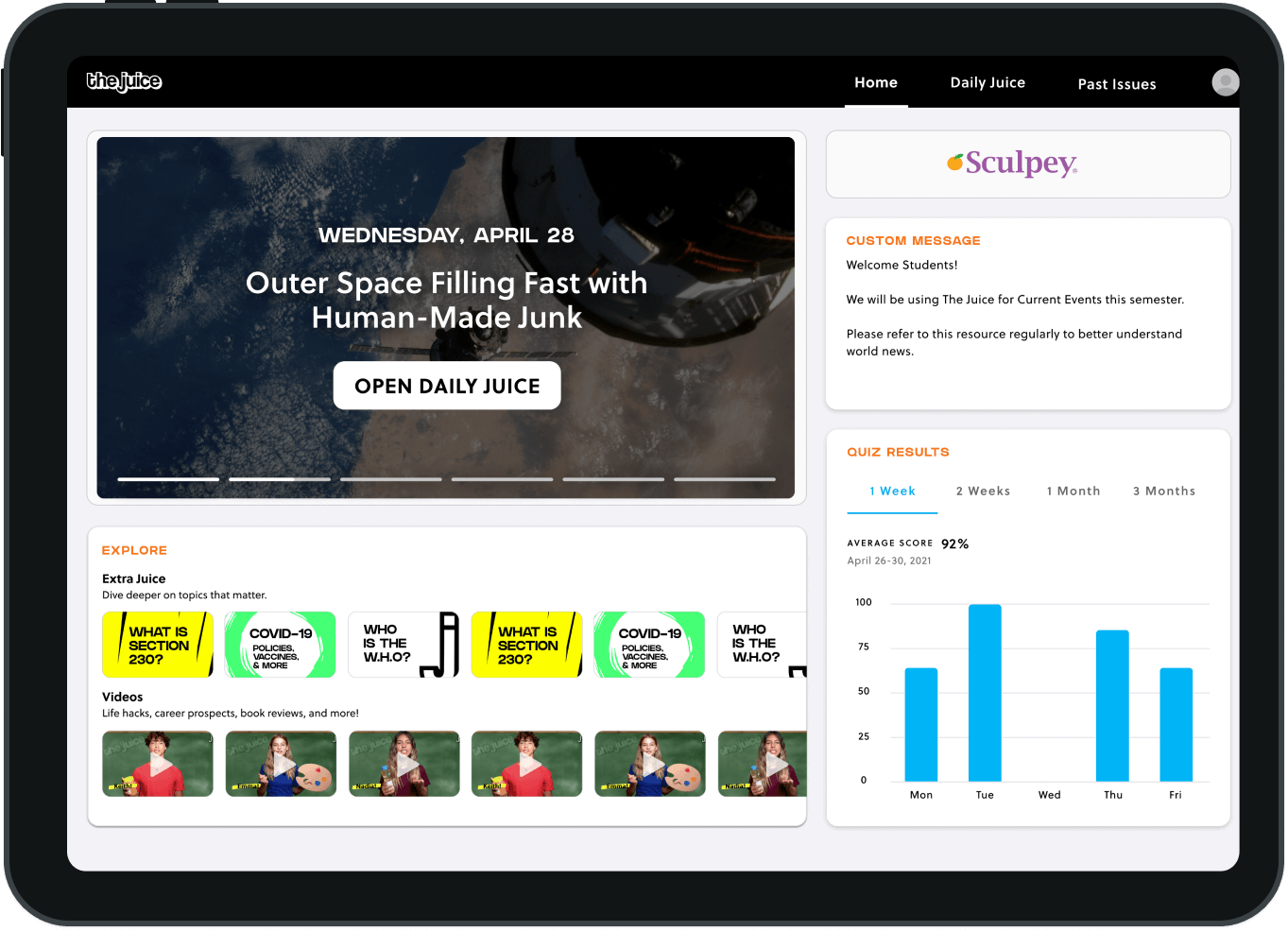 Students also have a search feature where they can look up past articles, search for relevant articles to use as sources for papers and projects, and expand their knowledge on a specific topic. Putting students in charge of their learning and access to knowledge makes the information more important. It becomes more about what students want to learn about, rather than what their teacher is telling them to learn about.
When a website's layout doesn't make sense, users can quickly lose interest in the information presented. Users don't want to spend time clicking around to find what they are looking for. To avoid this problem with our users, the overall layout and design has been enhanced to match a more modern set up. This new design is easier for students to navigate and implements a stronger use of patterns that will aid in recognition.
Stay Tuned for More!
We want the best possible experience for all our users, including educators, parents, and students, and will continue to look for ways to upgrade when necessary. To learn more about The Juice, visit our homepage at thejuicelearning.com.
And make sure to check back next week when we'll go over the new teacher portal, standards tracking and reporting, and tease an exciting new feature coming soon!