Welcome to our special Juice Year in Review Issue. In this issue, we recap some of the major news stories of 2021 in the following categories: COVID-19, US News, International News, Science, Entertainment, and Bright Sides.
It has been our honor being part of your classroom this year. We feel privileged to bring freshly squeezed news to your classrooms and dinner tables all year. We hope you enjoy our Year in Review offering today and look forward to our next issue on Monday, January 3, 2022.
From all of us at The Juice, we wish you a happy and healthy New Year.
PS- Want to read all the stories from the 2021 review? From now until the end of the academic year, you can experience The Juice for free! Activate your free trial now!
---
A Year in Review: COVID-19
1 | HEALTH
We began 2021 in the throes of near despair, with January the deadliest month to date in the COVID-19 pandemic, but also with long-awaited hope that the end of the plague could finally be in sight. We rolled up our sleeves for vaccine shots, life-saving miracles of modern science. By the Fourth of July, President Biden would declare "independence from the virus." But COVID proved a more formidable foe than most of us realized, mutating into powerful variants that vexed the best minds in medicine, and boosters suddenly became part of the lexicon as delta raged. Among kids, remote learning exacted a heavy toll on mental health and contributed to severe learning loss. We ended the year with the highly contagious omicron variant exploding across some regions of the world, including the US, as continued resistance to safety precautions and vaccine mandates also helped fuel the rapid spread of COVID.
February 1, 2021:
US Races to Boost Vaccinations as Strains Spread Fear of Contagion
June 7, 2021:
COVID Learning Losses Lead to Surge in Summer School Attendance
August 17, 2021:
US Likely to Recommend Third COVID Shot As Delta Spreads
October 22, 2021:
Medical Groups Declare Youth Mental Health Crisis a "National Emergency"
November 5, 2021:
White House Imposes Sweeping New Vaccine Mandate for Employers
Photo from Reuters.
A Year in Review: US News
2 | US NEWS
Even though we had elected a new president, American democracy itself seemed imperiled in 2021. On January 6, a violent mob of former President Trump's supporters stormed the US Capitol, seeking to prevent congressional certification of Joe Biden's victory. A week later, Congress impeached Trump for a second time. Since then, Biden's presidency has been fraught with various crises: messily pulling troops from a 20-year presence in Afghanistan, combatting a deadly viral pandemic, and managing weather calamities like heat waves, droughts, wildfires, and tornadoes. Meanwhile, we learned even more in 2021 about the ill effects of social media on our mental health.
January 7, 2021:
One of the Darkest Days in the History of our Nation"
January 20, 2021:
Biden, Sworn In as 46th US President, Declares "Democracy has Prevailed"
April 13, 2021:
Biden Sets 9/11 Date For Afghanistan Withdrawal
June 15, 2021:
Dangerous Western Heat Wave Will Shatter Records, Spark Wildfires
October 24, 2021:
Whistleblower: Facebook "Chooses Profit Over Safety"
Photos from Reuters.
A Year in Review: International News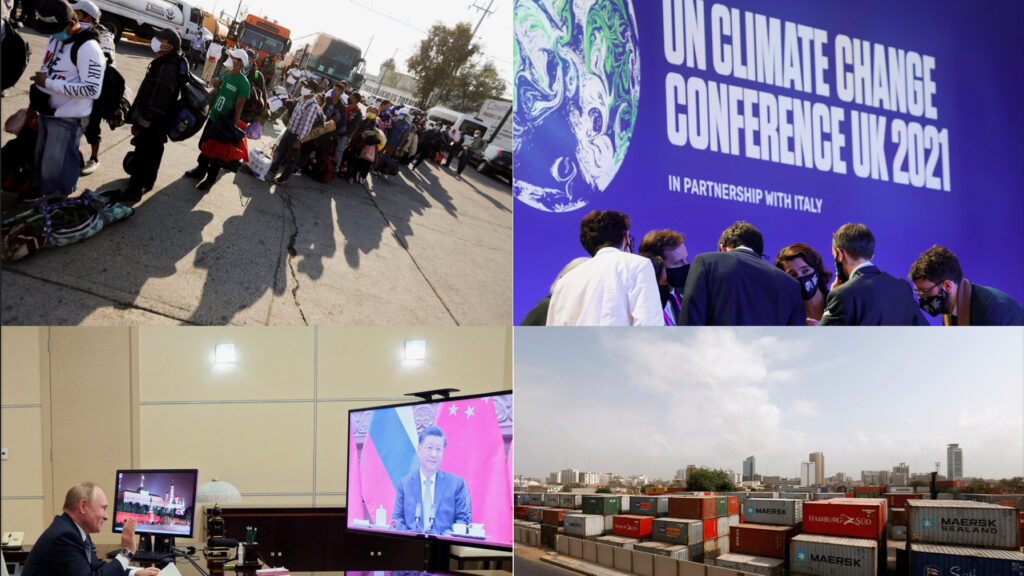 3 | WORLD NEWS
A new world order fully emerged in 2021, as Western nations led by the US geared up for competition with Russia and China in what some refer to as a 21st century "Cold War." Global supply chain snarls, induced by the pandemic, grew worse when a ship became lodged in the Suez Canal. Mass migration created humanitarian crises at the US-Mexico border and in parts of Europe. Democracy "backslid" in the US, while autocrats or the military seized power in other nations like Belarus and Myanmar, uprooting the citizen-led system of government. And speaking of the world, a second global summit on climate change made clear our "planet is hanging by a thread."
March 29, 2021:
"Supermoon" Helps Dislodge Ship Blocking Suez Canal
June 15, 2021:
Echoes of Cold War as NATO Summit Faces Threats from China and Russia
July 8, 2021:
Uprooted Venezuelan Migrants Cross US Border in Record Numbers
November 14, 2021:
As Climate Summit Closes, "Planet Is Hanging By a Thread"
December 9, 2021:
Biden Warns that Democracy Is Slipping, Here and Abroad
Photos from Reuters.
A Year in Review: STEM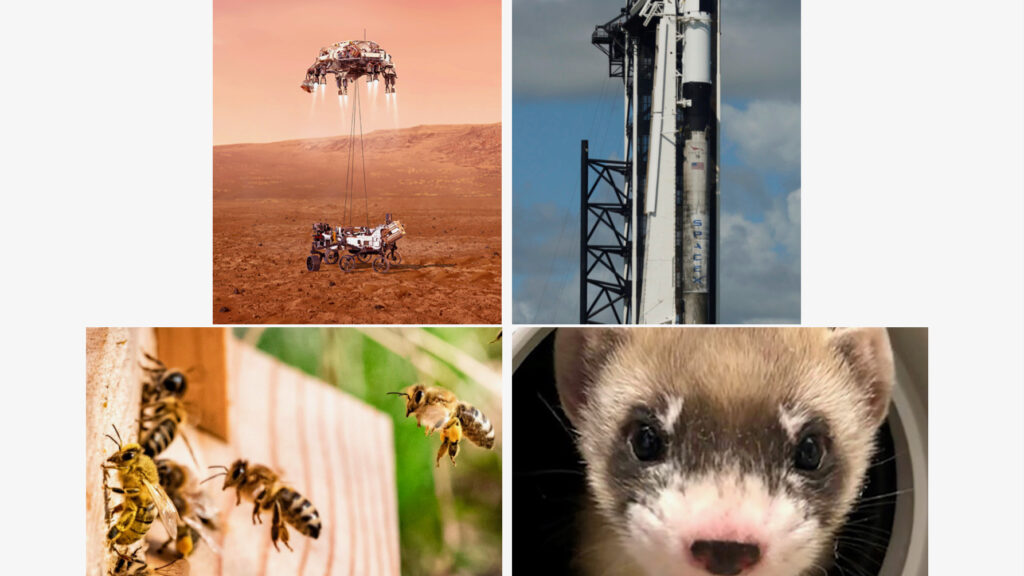 4 | STEM
2021 proved a banner year for scientific breakthroughs. Among many other notable firsts, we sent a robotic explorer on a 300 million-mile journey to Mars to try to determine if the Red Planet could ever have sustained life. Citizens headed to the final frontier for the first time aboard private companies' spacecraft in the burgeoning space tourism industry. Back on Earth, scientists finally achieved a medical breakthrough that has eluded us for a century: developing a malaria vaccine that could save tens of thousands of children's lives each year. Another life-saving advance: bees trained to detect landmines, which kill thousands of people every year. Scientists even cloned a black-footed ferret from the genes of an animal that had died 30 years earlier!
February 16, 2021:
NASA's New Mars Rover Seeks Life on the Red Planet
February 21, 2021:
Clone a US Endangered Species for the First Time
March 30, 2021:
Bees Team Up with Drones to Save Humans from Landmines
September 15, 2021:
All-Civilian Space Crew Makes History with Journey into Space
October 6, 2021:
A "Historic Moment" — WHO Endorses World's First Malaria Vaccine
Photos from Reuters and Kai Wenzel courtesy of Unsplash.
A Year in Review: Sports, Art and Entertainment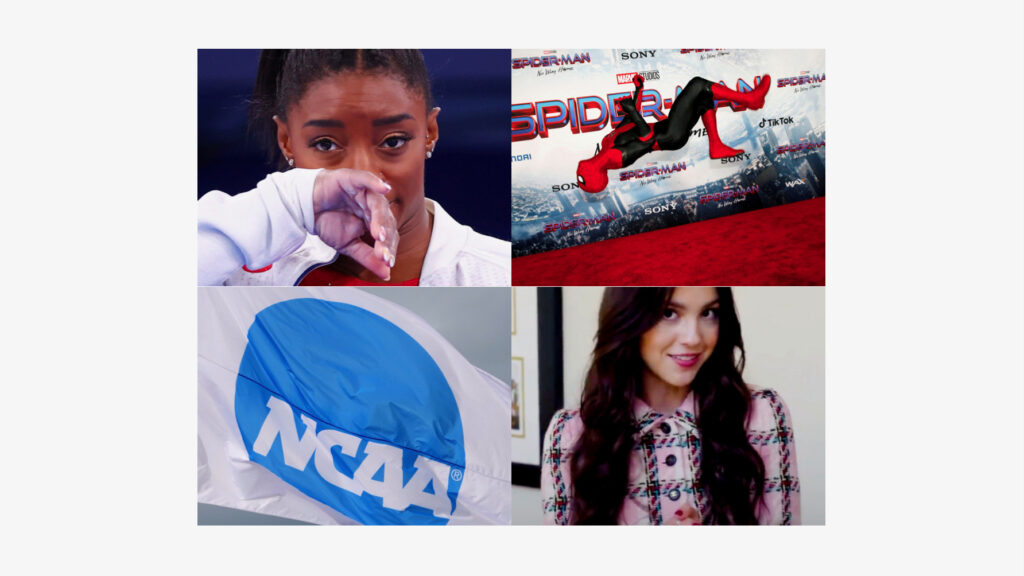 5 | ARTS AND ENTERTAINMENT
As we endured a second COVID-stressed year, we certainly needed the arts and sports as an escape in 2021. They did help in some cases, but in other instances they again informed us that these are human endeavors, and they can reflect our broader issues. Simone Biles reminded us that all of us are indeed human, even the greatest gymnast, as she pulled out of the Olympics, citing mental health struggles. The Supreme Court ruled that college athletes can be paid. We learned that many youths are leaving traditional sports like baseball and basketball as e-Sports boomed. In music, Olivia Rodrigo rode a bad breakup and teen angst to the top of Spotify's streaming list. And "Spider-Man: No Way Home" swung into box office history, perhaps rescuing the movie industry from the pandemic doldrums.
July 7, 2021:
Biles Cites Mental Health, Pulls Out of Olympics Team Competition
June 21, 2021:
Supreme Court Backs Payments to NCAA Student Athlete
September 24, 2021:
Overnight Star Olivia Rodrigo Hits 1 Billion Spotify Streams with "drivers license"
February 1, 2021:
Popularity of Esports Soars Across the Globe
December 22, 2021:
Spider-Man Swings to Hollywood's Rescue – For Now
Photos from Reuters.
A Year in Review: On the Bright Side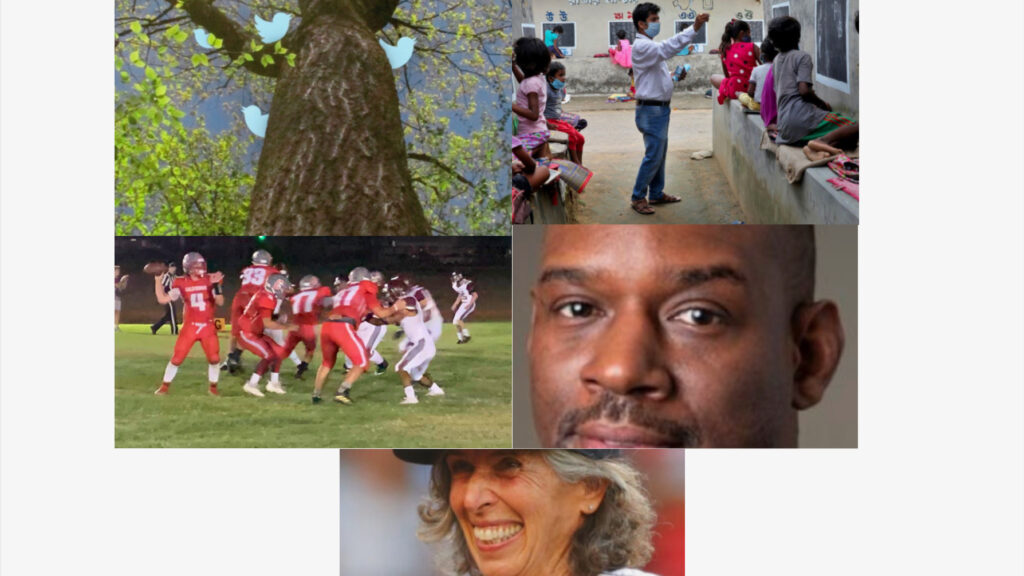 6 | ON THE BRIGHT SIDE
Amid the seemingly endless stream of bad news, it's important to look for the stories of heroes who make the world a better place, the stories of those who inspire us by overcoming long odds, the stories that reassure us that light shines in the darkness and the darkness has not overcome it. So here's a look back at some of our favorite On the Bright Side stories from 2021.
From Prisoner to Inspiration, Hope for Other Formerly Incarcerated Folks
A Deaf Football Team's Triumphs Inspire a School, a Town, a Nation
"Teacher of the Street" Brings Outdoor Lessons to Impoverished Indian Children
60 Years Later, Childhood Dream of Being Yankees Bat Girl Comes True
If a Tree Could Talk — Or At Least Tweet — What Would It Tell Us?
Father, Daughter Pen Novel, Raise $27,000 to Fight Hunger
Terminally Ill Teacher's Students Sing Her a Heartfelt Goodbye
Black Women Make History, Shatter Stereotypes By Climbing Mount Kilimanjaro
In Beirut, Murals of Flowers Offer Healing Balms of Hope
Guardian Angel Is an Answered Prayer for Hundreds of Children
Photos from The Justice-in-Education Institute, Columbia University; Harvard University; The New York Yankees; Reuters; and, The California School for the Deaf.